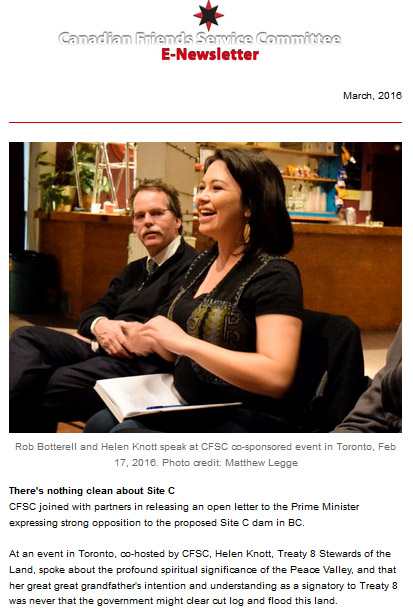 The CFSC E-Newsletter is a monthly bulletin that shares current and emerging concerns, opportunities to take action, and information related to CFSC's work, our partners' work, and other news relevant to Quakers in Canada. Canadian Quaker Meetings are welcome to submit items for inclusion in the E-news.

Sign up for CFSC's E-news:
When you subscribe above you will also be invited to join the Quaker Concern email list, 3 emails per year with our 8 page newsletter Quaker Concern – sharing longer stories about what we do and why.

CFSC respects your privacy and will only use your email address to send you the E-News and Quaker Concern. You are free to unsubscribe at any time using the link available in any email from us.

Note – the issues of the E-News linked to below are in PDF. You may need to right or command click the links and download the files if they are not displaying properly in your browser.

Download issues of the E-news