Work on Canadian Policies Related to Peace
Currently, CFSC is working on four policy areas related to peace:
Afghanistan: Canada's Role
Nuclear Disarmament: the Time is Now (section under construction)
Palestine and Israel: Promoting Peace
Responsibility to Protect: A Call for Peaceful Intervention
The Canadian Quaker Perspective on Canada's Role in Afghanistan
Canada has been engaged in armed conflict in Afghanistan since October 2001.
When the criminal atrocities of September 11th, 2001 were committed, international and national legal structures already existed to pursue the perpetrators and bring them to justice. Regrettably, military retaliation was the chosen response by the United States, and a number of NATO allies joined this military coalition, including Canada. The overwhelming military assault on an already impoverished and war-damaged country, the inevitable killing of innocent bystanders, and the bypassing of tenets of international law were, in Friends' opinion, avoidable and immoral choices.
CFSC has presented an alternative, non-military and non-violent role for Canada in Afghanistan in its communications with the Canadian Government since the start of the war.
Canadian Yearly Meeting is a founding member of Project Ploughshares, an ecumenical peace and disarmament agency which carries out policy dialogue this and other issues with support from its member churches.
Another CFSC partner is Peacebuild. They have a working group specifically developing peacebuilding strategies for Afghanistan.
Nuclear Disarmament: the Time is Now (under construction)
Palestine and Israel: Promoting Peace
Canadian Yearly Meeting (the national church body), some of its Monthly Meetings, and individual Friends have a long history of concern for peace in Israel-Palestine, working on the concern through non-violent peace initiatives, participation in inter-faith dialogues, communication with government, and representation to diplomatic missions.
In 2008-09, through CFSC, Canadian Friends pooled their information and experience to set a common basis for their efforts for peace in Israel and Palestine. Canadian Friends undertake these efforts as individuals, as Monthly Meetings, through CFSC and through Canadian Yearly Meeting. Through a process of engagement with Meetings, a proposed policy statement was worked through CYM in session in 2009. The Canadian Yearly Meeting (CYM) 2009 policy statement on peace in Israel and Palestine provides guidance for all these levels of action.  We have gathered together a resource kit of information relevant to carrying out this policy.  Several of its elements are described below.
In March 2010, Quakers and guests in Ramallah gathered to celebrate the 100th anniversary of the dedication of the Friends' meeting house.  Ramallah Monthly Meeting sent an epistle to all Friends which says in part:
We heard from Palestinians who are struggling to further democracy and seek consensus among themselves in the face of forces that would divide and disenfranchise them.
We heard now and earlier from Israelis who are struggling to tell the truth about the occupation to their fellow citizens and the world.
We heard from Palestinians and Israelis who are working together to end the occupation, lift the siege on Gaza and restore their human and civil rights by nonviolent means. We have heard in particular calls to international solidarity with these efforts through a nonviolent programme of boycott, divestment and sanctions…
We call on Friends everywhere to uphold and pray for the ongoing witness of the Ramallah Friends Meeting, and to join us in this witness. We ask Friends to discern what, in their own circumstances, they can best do to support those working to end this conflict and bring peace and justice to this troubled region.  We ask Friends to consider adopting boycott, divestment and sanctions as we may be led to do, individually or corporately.
The complete Epistle, which quotes 17th century Friend John Woolman, is here. Canadian Friends have not yet corporately considered the request from Friends in Ramallah.
Supporting Learning about Non-violent Witness in Israel-Palestine
CYM 2009 also asked CFSC to provide learning materials on this issue.  CFSC recommended Friends making the International Middle East Media Centre website, a CFSC-supported project of the Palestinian Centre for Rapprochement between Peoples (PCR), a source for up-to-the-minute information on events in the region. PCR is a CFSC project partner.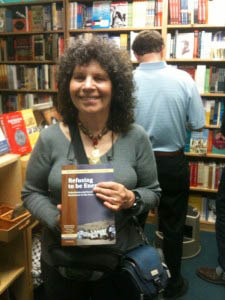 Maxine Kaufman Lacusta, an associate member of CFSC, has written a book which we highly recommend, "Refusing to Be Enemies".  The book opens with Maxine introducing us to several nonviolent activists who tell us
why they chose nonviolence and why they got involved in activism against the occupation.
Through the voices of Palestinian and Israeli nonviolent activists, the book then moves on to reflect on the last several decades of nonviolent activism in Israel/Palestine with its successes and failures, on the question of both the triumphs and challenges of nonviolent organizing, and on the activists' hopes and visions for the future. Here is a review of it, entitled "Glimpses of Freedom".
Also highly recommended is When the Rain Returns (2004). This book chronicles the observations of  the members of the International Quaker Working Party on Israel and Palestine during their visit to the region. Rick McCutcheon, a Canadian Friend, was a member of the working party, and has contributed a chapter. The book is informed by Quaker principles, one of which is that in crafting a settlement, all interested parties must be consulted. The introductory chapter provides a balanced history of the region.  Here is a one-page review of the book.
These books may be ordered from the Quaker Book Service (mail only): Quaker Book Service, Box 4652 Station E, Ottawa, Ontario, K1S 5H8. The booklist is available online.
Supporting the Witness of Individual Friends
Lyn Adamson, a member of Toronto Monthly Meeting and a CFSC associate member for peace education, was a member of the crew of the Canadian boat in Freedom Flotilla II. At the end of June 2011, the flotilla attempted deliver humanitarian assistance to Gaza in spite of the blockade. It was prevented from leaving harbour by the Greek Coast Guard. Though unable to reach Gaza, the events over that week raised attention around the world to the blockade issue, and the Greek government agreed to deliver the aid. Four Monthly Meetings (Toronto, Coldstream, Vancouver and Simcoe-Muskoka) have made statements in support of Lyn.  Here is CFSC's letter of introduction and support, somewhat in the Quaker tradition of a "traveling minute."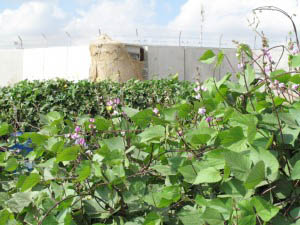 In 2010, Sara Avmaat, a Friend from Nova Scotia, participated in the World Council of Churches' Ecumenical Accompaniment Programme, with financial support from CFSC to attend non-violence training in preparation. Here is her blog. A good "taster" is her October 28 entry, here.
A number of Monthly Meetings are selling Zatoun Palastinian-made products, a wonderful way to begin the conversation about peace in the region and the challenges facing peoples.
Public Statements
Here are some recent letters to government by CFSC on Israel-Palestine:
Letter to the Prime Minister condemning the Israeli military's attack against the humanitarian flotilla off the coast of Gaza, on 31 May 2010.
Letter to the Prime Minister expressing profound sorrow and opposition to the Government of Israel's bombing and invasion of Gaza, January 2009.
The Responsibility to Protect: A Call for Peaceful Intervention
The Evolution of Responsibility of Protect (R2P) Doctrine

"Responsibility to Protect" (R2P) was developed in the early 2o00s as an international security and human rights framework to try to address the international community's failure to prevent and stop genocides, war crimes, ethnic cleansing and crimes against humanity.
It was adopted by the United Nations General Assembly Member States in the Outcome Document of the 2005 High-level Plenary Meeting of the General Assembly (World Summit).
R2P redefines a state's sovereignty as the responsibility to protect all of its citizens, including protection from threats that originate within the state. It insists that in cases where a state is unable or unwilling to protect, the international community, under and with the authority of the UN, has a responsibility to intervene and protect. Intervention is interpreted as including armed force "in the last resort".
Friends' Discernment about R2P
As the dialogue on R2P was evolving, some Canadian Friends began to give attention to the issue and what that Friends might understand "responsibility to protect" to mean, practically. What should be the Quaker response to the dilemma posed by massive human rights violations such as genocide and crimes against humanity? Does the international community have a responsibility to protect victims? How can such a responsibility be carried out? What does our Peace Testimony call us to "in the last resort"?  These questions concerned them deeply.
Consultation with Friends revealed that this was an opportunity to show how nonviolent strategies can transform conflict. To do this there needs to be an understanding how nonviolent protection works, to come to terms with the dilemmas of force and coercion, and to become fluent in the description of practical nonviolent alternatives.  In 2006, the Canadian Council of Churches asked its members (including Canadian Yearly Meeting) to form a policy on "Protection of Vulnerable Populations" in response to the adoption of R2P as a fundamental aspect of Canadian foreign policy.
At Yearly Meeting in 2006, Friends decided to spend a year studying these questions at the local level. CFSC composed a resource paper and trained Monthly Meetings discussion leaders. Monthly Meetings reported back to CFSC which formulated a synthesis report, further seasoned  in a conference call with discussion leaders, then presented at a Special Interest Group at Yearly Meeting 2007.  The report of the Special Interest Group was adopted in a minute which provides guidance to Friends who are asked for the Canadian Quaker position on Responsibility to Protect. These sentences capture the essence of the minute:
The responses from Friends meetings were in unity that we could not support "military intervention in the last resort". Thinking of military intervention as a "last resort" assumes that it is inevitable. It hinders non-military action such as non-violent inter-positioning. Insisting upon the spiritual imperative of respecting that of God in every person, Meetings showed the effectiveness of the wide range non-violent intervention strategies that are available. As one Meeting wrote: "the last resort for Jesus was self-sacrifice."
This minute now guides CFSC in its responses to situations that arise that invoke the R2P doctrine. CFSC's Statement in opposition to the military intervention in Libya (April 5, 2011) is an example.
Educational Resources

A number of articles on R2P have appeared in Quaker Concern (see the QC page on this web site).