CFSC is the peace and social justice agency of The Religious Society of Friends (Quakers) in Canada.
Vision
CFSC envisions a world in which dignity, justice, peace, human rights, and harmonious relationships with creation are fostered and upheld.
Values
Quakers seek to experience and answer to that of God in all creation. In living out this experience, CFSC's values are rooted in the Quaker testimonies of simplicity, peace, integrity, community, equality, and respect for all creation.
Mission
CFSC alleviates suffering and develops transformative and sustainable approaches to human rights, justice, and peace. We act through practical assistance, research, education, and policy dialogues.
Quaker faith in practice
While CFSC's work in the world is rooted in our faith, we never engage in any form of proselytizing (attempting to convert people to Quakerism). We respect and honour the perspectives of those we work with, whether from other faith traditions or of no particular faith.
When asked, we answer questions about Quaker faith and practice, but with the intention of sharing information and mutual learning, not seeking conversion. Here are a few answers to frequently asked questions about Quakerism.
The Religious Society of Friends (Quakers) arose in England in the 1650s, believing that there is an Inner Light or "that of God" in every human being, and that everyone has the capacity to directly experience the Spirit. CFSC's values flow out of these fundamental beliefs. "Promptings of love and truth in our hearts" are the source of the Quaker commitment to human rights, global justice, and peace.
Logo

Since 1931 our logo has been the eight-pointed red and black Quaker star. The star was first worn by British Quakers doing relief work during the Franco-Prussian War in 1870. The original designer and choice of the star is unknown. Wearing it distinguished Quakers from Red Cross members doing similar work. The star, with slight variations, has been used by various Quaker service agencies ever since.
Program icons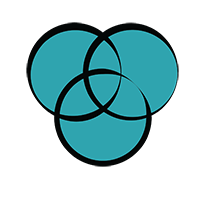 This icon represents our criminal justice work. Circles are important symbols of community. Crime is damaging to community and can best be repaired by the inclusion of all who have been harmed and all who have caused harm. This icon highlights our belief in the need for prevention, reparations, and moving beyond harm in the criminal justice system.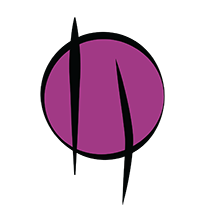 This icon represents our work in support of Indigenous peoples' human rights. The design for this icon is an original work by the Quaker artist O. John Hawkins, first completed in 2002. It represents community, respect, and mutuality between Quakers and Indigenous peoples.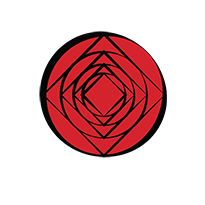 This icon represents our peace work. It symbolizes the existence of different needs, beliefs, and actions (rounded and hard lines), all coming together to influence each other. The many dynamic factors at play give rise to a complex fractal-like system: peace.