Are We Done Fighting? **free** public talk in Winnipeg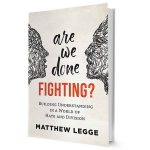 Date/Time
Date(s) - 13/11/2020
7:00 pm - 9:00 pm
Location

Crescent Fort Rouge United Church, 525 Wardlaw Avenue, Winnipeg, Manitoba
Categories
Author Matthew Legge will be presenting key findings shared in CFSC's 2019 book Are We Done Fighting? Building Understanding in a World of Hate and Division. In a simple and accessible format this free talk will offer practical tips that listeners can use right away, for instance on how to have more effective conversations on contentious issues.
The book work draws on hundreds of studies from fields like social psychology, behaviour economics, and neuroscience to explain what's happening in dysfunctional and polarizing societal conflicts, and what we can do to help turn the tide.
Matthew Legge has worked in the nonprofit sector for the last 14 years, with a focus on building health, dignity, and human rights. Since 2012, Matthew has worked for Canadian Friends Service Committee, the peace and social justice agency of Quakers in Canada. Quakers are widely respected for their efforts to prevent war and transform conflicts, as well as their impartial support for war victims.
Matthew writes the popular blog Are We Done Fighting? for Psychology Today. Since the book was published in 2019, he has been touring the country leading workshops and giving presentations on how we can make more positive interactions infectious.