Virtual Screening of Conviction and Discussion with Irwin Elman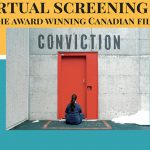 Date/Time
Date(s) - 21/05/2020
7:00 pm - 9:00 pm
Categories
Join Canadian Friends Service Committee for a virtual screening of the award-winning Canadian film, Conviction.
A microcosm for a worldwide crisis, the film chronicles the women's journeys as they navigate the world inside and outside prison walls, joining advocates and politicians in questioning the ideas of punishment and prison.
Join us after the filming for a discussion with special guest speaker, Irwin Elman, Former Ontario Advocate for Children and Youth.
On July 14th, 2008, an all-party panel appointed Irwin Elman as the Provincial Advocate for Children and Youth to provide leadership to the Advocate's Office – the first independent office of its kind in Ontario – to amplify the voices of children and youth in its mandate.
Irwin brought an extensive background as an educator, counsellor, youth worker, program manager, policy developer and child and youth advocate to the position – borrowing from the courage and hope of the young people he served to create innovative approaches for others in Ontario, Jamaica, Hungary and Japan. He now acts as an advisor to the Laidlaw Foundation , the Coroner of Ontario and Until the Last Child.
Find out why the former Child Advocate of Ontario, supports the film's message – BUILD COMMUNITIES NOT PRISONS!
The film is 1 hour and 18 minutes long and will begin shortly after 7:00p.m. EDT. The presentation by Irwin Elman and discussion will begin at approximately 8:20p.m. EDT and go until approximately until 9:00pm EDT.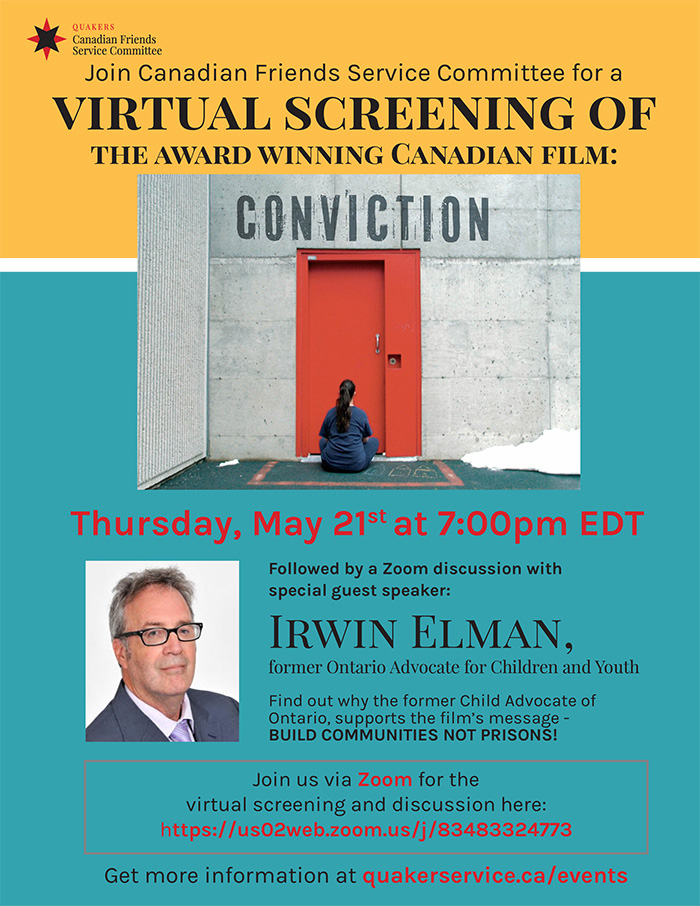 How to Join us:
Both the film and the discussion will be held via Zoom. Use this link to join us: https://us02web.zoom.us/j/83483324773
Meeting ID: 834 8332 4773
If you are having trouble viewing the film with us via Zoom use this link instead: https://vimeo.com/419025472/86ee57abf9
Be sure to rejoin us on Zoom at 8:25pm EDT for a discussion with Irwin Elman, former Ontario Child Advocate
Zoom link: https://us02web.zoom.us/j/83483324773
Event agenda:
7:00pm – Zoom Etiquette and Welcome
7:10pm – 8:25pm – Film
8:25pm – 8:35pm – Irwin Elman Presentation
8:35pm – Discussion Begins
9:00pm – Thank You and Goodbye
Learn more about CFSC's work on Criminal justice here: https://quakerservice.ca/our-work/justice/
Check out our resource on Alternatives to Prison in advance of the screening:
Helpful tips for using Zoom:
– Be sure to download Zoom, if you don't already have it, before the event. You can download it for free here: https://zoom.us/
– Be sure to keep your microphone on mute during the screening of the movie and during the presentation. If you would like to participate in the discussion, please only unmute your microphone while you are talking so as to avoid distracting other participants with background noise.