At our annual gathering in 2016, Canadian Quakers (CYM) approved a minute (https://quakerservice.ca/wp-content/uploads/2016/08/CYM-2016-Minute-on-Reconciliation.pdf) that listed six action points for Quaker Monthly Meetings and Worship Groups to take forward into the coming year. One of the action points asked local Quaker groups to report back to Canadian Friends Service Committee (CFSC) on their annual reconciliation work, and tasked CFSC with preparing a report for CYM.
The present report is the third such annual report (the 2017 and 2018 reports are available at https://quakerservice.ca/QuakersinAction) compiled by CFSC. It is based on reports sent by 13 Meetings (Calgary, Coldstream, Cowichan Valley, Hamilton, Interior BC, Kitchener Area, New Brunswick, Ottawa, PEI, Pelham/Niagara, Peterborough, Saanich Penninsula, Vancouver, Victoria Island, Yarmouth, Yonge St.) and CYM Education and Outreach Committee about their activities since July 2018.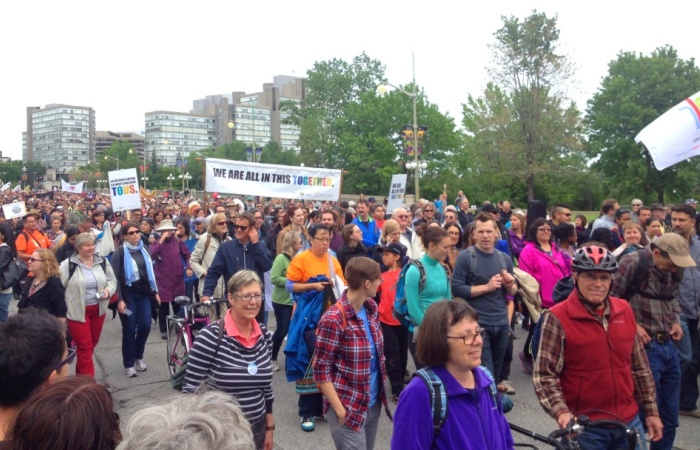 Some reflections are emerging from this third year of reporting on our reconciliation work:
The number of Meetings and CYM committees who reported has remained relatively steady, with a total of 17 reports submitted this year compared to 18 in 2018 and 13 in 2017. We are encouraged by having several Meetings report for the first time this year, and by Meetings who are making this annual report part of their practice.
The number of Meetings that are doing land/territory acknowledgments or have entered into a process of discernment around how to do territory acknowledgments has increased. We take this as manifestation of the fact that Friends are continuing to grapple with the complexities and responsibilities of living on Indigenous land. We hope that the recent resource Territory Acknowledgment produced by CFSC will be helpful to Friends in this process (https://quakerservice.ca/territory-acknowledgment).
Meetings that reported have several individual Friends and/or attenders who are committed to the work of reconciliation; connected with local Indigenous peoples, leaders and organizations; and involved to varying degrees in relevant local efforts. Similar to the last two years, this remains the primary process through which the work of Truth and Reconciliation is moving through our Quaker communities. The full Meeting reports, compiled in an Addendum and available from CFSC by request, have many details of the work and commitment of Friends across the country.
More Meetings also report that they have established groups or committees to work on Indigenous rights. These committees brought relevant information to their Meetings, connected the Quaker community with local reconciliation efforts, and helped organize events and educational initiatives within their Meetings and in the community.
Overall, we are encouraged by emerging signs that Indigenous concerns are becoming mainstreamed in the life and work of Meetings across Canada.
Download the 2019 report (PDF) for examples of activities and initiatives undertaken by the reporting Meetings and the CYM Education and Outreach Committee over the last year.
Learn more about truth and reconciliation.