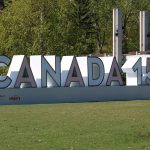 During this year of 'Canada 150′ celebrations, we encourage you to give some thought to how these celebrations impact our Indigenous partners and friends.
Two points have been raised: Firstly, that Indigenous Peoples have lived and exercised sovereignty over the territory of what is now Canada for far longer than 150 years and this past must be acknowledged. Secondly, the confederation of what we call Canada is founded on fraud and the theft and plunder of Indigenous territories, and many ongoing violations of the human rights of Indigenous Peoples have yet to be resolved.
In the spirit of "renewed courage" and the desire to go about our lives in a faithful way, we offer to you an adapted version of Friends' Advices & Queries #11:
Be honest with this nation state called Canada. What unpalatable truths might we be evading? When we recognize shortcomings, do not let that discourage you. In worship together we can find the assurance of the Creator's love and the strength to go on with renewed courage towards a future where the rights and dignity of all peoples are respected.
We offer up some Indigenous voices for your reflection and offer our encouragement that we all engage in the reconciliation process to ensure that future celebrations can have more positive meaning for Indigenous Peoples of this territory.
Some words about Canada 150 from Ellen Gabriel, Kanien'kehá:ka of Kanehsatà:ke
On July 1st as Canada celebrates its 150th year, I and many other Indigenous peoples will be looking on with disappointment and dismay. Not to be antagonistic but out of disappointment, mistrust and frustration because Canada still practices colonization today. It is difficult to join in the celebration when it is accompanied by this level of obliviousness about colonization and how it continues to oppress Indigenous peoples. For those of us not celebrating Canada's 150, we are, instead, celebrating Onkwehón:we (Indigenous) peoples' resilience to the genocide enacted by Canada in the name of "progress" and the security of settlers; and we also celebrate our resistance to assimilation.

While we know that many Canadians wish to have genuine reconciliation and because of that we are proud to call them our friends and allies. But in order to move forward we need to have real reconciliation accompanied by restitution; return of our lands, control over our lands and resources, education, traditional governance restored; respect for our human rights.

But Colonization is violent, thus it will be painful for us. Past injustices must be acknowledged and taught in all institutions as it will allow us to move forward. Like the TRC's Calls to Action, it requires time, patience, respect, courage and the strength to listen to each other.
Resolution by the Union of BC Indian Chiefs
View the resolution at https://www.facebook.com/UBCIC/posts/1587864601244111
News of interest
150 Plus an Indigenous initiative to acknowledge
Chief Dan George's Lament for Confederation in the contemporary context
Can you celebrate Canada 150 and still respect Indigenous rights?
Learn more about the human rights of Indigenous Peoples.