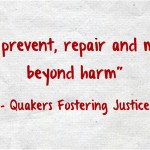 CFSC has a staff position available at the national office, Toronto. The Quakers Fostering Justice (QFJ) Program Coordinator is a half-time position (17.5 work hours/week). They support the work of the QFJ volunteer program committee which sets directions for the program, and is involved in program delivery. Work includes:
Research, education and writing on criminal justice-related issues
Policy dialogue on criminal justice-related issues
Administer community-based grants program, workshops and training
Relationship building in the criminal justice community
Administrative support to the program and program activities
Compensation: $23,504 – 26,100/annual to start, plus generous benefits package

For detailed information see the full job description (PDF).

For more information about CFSC and its work on criminal justice issues, visit https://quakerservice.ca/our-work/justice/

How to Apply:
If you have the gifts and skills required, we welcome your submission including:

Cover letter
Three references (1 personal, 2 work-related)
Resume outlining your qualifications and your interest/leading to serve as staff within CFSC
Please email your application package to CFSC at: cfsc@quakerservice.ca No phone calls, please. While we wish to acknowledge all applicants, only those selected for an interview will be contacted.

Application Deadline: 9 am (Eastern) on Monday 22 February 2016.

Canadian Friends Service Committee is an equal opportunity employer.