Evidence and techniques you can use right now
Are you worried about increasing hate crimes? Does it feel like our world is becoming more divided? Do you care about peace?
CFSC is pleased to launch a major project that's been years in the making.
In his work for Canadian Friends Service Committee, program coordinator Matt Legge has written a new book full of the information you've been looking for.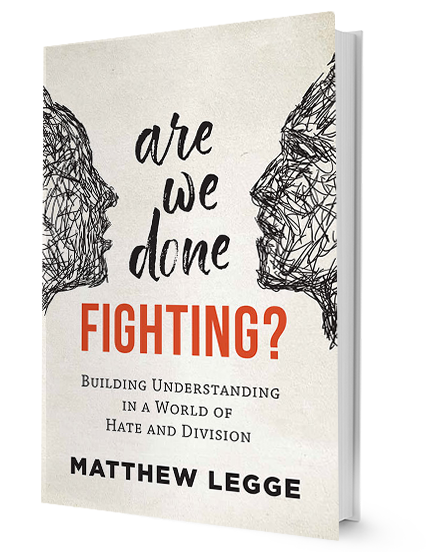 Are We Done Fighting? Building Understanding in a World of Hate and Division brings together fascinating researching findings in an easy format that will help you build practical skills. It's written with one goal: to be immediately useful to readers.
Here's what people are saying:
"…Exceptionally valuable and timely."
— Alex Neve, O.C., Secretary General, Amnesty International Canada
"…A much-needed antidote to the risk of depression and despair."
— Paul Rogers, Emeritus Professor, Peace Studies, Bradford University, UK
"This book is a joy. The research is fresh and fascinating, the writing is clear and crisp…"
— Stephanie Van Hook, Executive Director, Metta Center for Nonviolence
This has been a major community effort, collecting and sharing important wisdom from all sorts of sources. We're pleased to invite you to join that community!
We're trying to actively support a grassroots shift toward a culture of peacebuilding. The thousands of hours of staff and volunteer time that have gone into Are We Done Fighting? are all to that end. Gain the skills you need and help peace to spread.