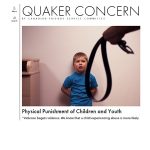 We're excited to launch the summer 2017 issue of our newsletter Quaker Concern with five articles and other short news pieces we think you'll find interesting and informative:
Physical Punishment of Children and Youth
by Sarah Chandler

Children are persons in formation. As such, they continually challenge parents as they explore and learn during the normal phases of growing up. According to child psychiatrist Daniel Siegel, "parents' responses shape the development of children's capacity to regulate their states of mind and shifts in emotions." Siegel affirms that when a child feels mad, sad, or scared, the brain chemistry involved actually acts to prevent learning. Therefore, discipline that fosters fear, anger, or sadness is counter-productive. It will not lead to constructive learning. Read more.

Working for Peace in Burundi
by Parfaite Ntahuba

Burundi is one of the poorest countries in the world. It was devastated by many years of civil conflicts and wars following its independence from Belgium in 1962. The breakdown of economic, social, and cultural structures led to a deterioration of women's condition. The worst example is Kamenge, a slum in the northern part of the capital city, Bujumbura. In 2002, women from the Evangelical Friends Church were touched by how the people of Kamenge face many interconnected challenges. They formed Friends Women Association (FWA), an organization that helps women rebuild their lives and care for each other. To achieve its mission, FWA constantly develops new partner-ships, and seeks to learn new skills. Read more.

What's in a Typical Day at the UN?
by Jennifer Preston and Rachel Singleton-Polster

The UN Declaration on the Rights of Indigenous Peoples is of critical importance in the struggle to transform relationships based on colonialism and oppression to ones based on human rights and mutual respect. We know how significant the UN Declaration is to Indigenous Peoples, and we work for its full implementation through being active allies at both the United Nations Permanent Forum on Indigenous Issues (UN PFII) in New York and the UN Expert Mechanism on the Rights of Indigenous Peoples (EMRIP) in Geneva. Read more.

Bridge of Hope
by Rose Marie Cipryk

For a long time I have wanted a place in my community where I could experience the diversity of my city and where I could be of service. I am so grateful to have landed in just this kind of organization. It's called Bridge of Hope. This is a very harmonious group, fortunate in leadership and able members. Read more.

My Summer with CFSC
by Maggie Sager

Each summer CFSC seeks a young Friend or young person interested in Quakerism and social justice to work as a Program Assistant (PA), supporting both CFSC's various program committees and its general administrative operations. This summer I was honoured to take the PA position, have the opportunity to work on so many issues close to my heart, and deepen my understanding of Quaker history and practice. Read more.