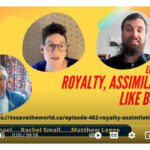 Our Communications Coordinator Matt Legge joined Metta Spencer's "Project Save The World" podcast together with guests Liz Carmichael (professor at Oxford University) and Rachel Small (World Beyond War's Coordinator in Canada).
It was a wide-ranging discussion beginning briefly on protests against Canada's largest weapons fair, followed by a longer disagreement about the Queen of England's Jubilee and the meaning of the monarchy today.
Later in the show Matt discusses CFSC's book Are We Done Fighting? and talks about some examples of platforms that promote more positive conflicts amidst the hate and radicalization taking place on much of social media.
CFSC continues to facilitate the free workshops that Matt mentions. Find out more about building your peace skills (and if you're interested you can put your name on the wait list for the next round).