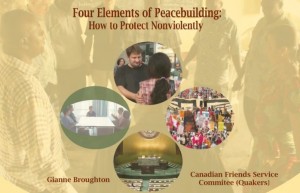 A Congolese woman looks out of her hotel window to see a mob of enraged villagers in the street, and a large group of soldiers advancing on them. She walks into the street, alone. She places herself right between the two groups. Through calm perseverance and fearlessness, she manages to talk to both sides, listen carefully, reminding each of their interests, and help them to understand that these can be reached without violence.
We are thrilled to announce the release of a new booklet, The Four Elements of Peacebuilding, which blends such action-packed frontline stories with theory and methods developed by leading organizations in the peacebuilding field.
The booklet's name, The Four Elements, comes from a realization that the typical classification of peacebuilding into three categories has long overlooked an essential human quality which Friends often work with, but which had not been named until now.
The Four Elements of Peacebuilding comes out of many years' experience and research by its author, Gianne Broughton. The Four Elements was published as Gianne's final contribution before her retirement from the post of Coordinator of our Peace and Sustainable Communities program committee. It will serve as a valuable resource for anyone looking to know more about the techniques of peacebuilding, or about the theory that can help to inform and improve current peacebuilding work.
You can download The Four Elements of Peacebuilding for free. To order print copies please contact us.