CFSC welcomes Matthew Legge – incoming Program Coordinator of the Quaker Peace and Sustainable Communities program committee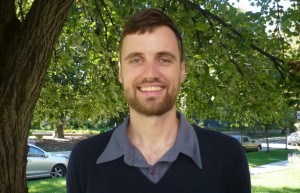 In September, Matthew Legge will begin his service as the Program Coordinator of the Quaker Peace and Sustainable Communities program committee of Canadian Friends Service Committee.
Matthew has worked with small and medium-sized NGOs and grassroots groups in Canada, Latin America and the Caribbean, Africa, and South-East Asia. He has spent his longest stretches outside of Canada living in rural Indigenous communities in Guatemala and Venezuela. Matthew is a strong advocate of resource and lesson sharing in the non-profit sector, and contributes to this through his voluntary service as Vice-President on the board of directors of the Ontario Council for International Cooperation (Matt is also CFSC's representative to OCIC).
Matthew's background in program management, including responsibility for the day-to-day administration of various NGOs, is one of the many gifts that he brings to CFSC. Some of you may recognize that Matt was appointed last fall to work part-time in Communications and Administration at CFSC; over the past year, CFSC has benefited from his exceptional critical thinking skills which he has applied to tasks large and small, his consideration of varied perspectives on issues, his appreciation of Quaker values and ways, his creative and thoughtful efforts to improve many aspects of our work including the enrichment of CFSC's communications tools, and his quietly warm and humble nature. Matt will now be working full-time at CFSC, fulfilling both of these roles.
Matthew, who formally begins this service on September 16th, will be following in the footsteps of Gianne Broughton, who has served in this position for 15 years as of this fall. Gianne will be completing her service at CFSC at the end of October. We are deeply grateful for her dedication and the many gifts she has shared generously through her work with Friends.
Friends who wish to welcome Matt to this new role can email him at matt@quakerservice.ca. Friends who wish to express their appreciation for Gianne's service are invited to email her at gianne@quakerservice.ca.