Multiple churches have written to Minister of Justice and Attorney General David Lametti to support Bill C-15 the UN Declaration on the Rights of Indigenous Peoples Act. Read the open letter below.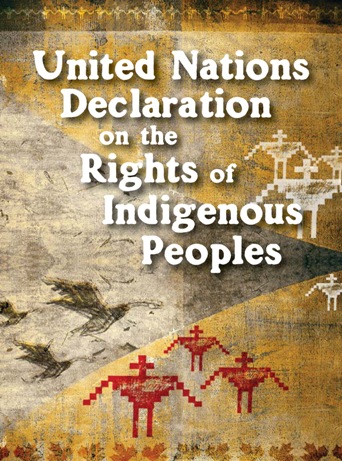 Minister David Lametti,
We write to express our appreciation for your government's tabling of Bill C-15; legislation to implement the UN Declaration on the Rights of Indigenous Peoples (Declaration). Our national faith houses and faith-based organizations, along with many other faith communities, have affirmed the Declaration as the framework for reconciliation in response to the Truth and Reconciliation Commission's Call to Action #48.
We are pleased that your government used Bill C-262 as the basis for implementation legislation. We are also pleased to see that you have built on C-262 and added critical elements, including references to systemic discrimination, sustainable development, climate change, and the Calls for Justice from the National Inquiry into Missing and Murdered Indigenous Women and Girls.
We urge priority of this draft Bill through the legislative process to ensure Royal Assent in advance of the next election.
Faith-based civil society, alongside Indigenous sisters and brothers, is keen to support the processes towards the development of the action plan and accountability mechanisms called for in C-15. We recognize this as but one of many urgent steps on the journey of justice and right relationships.
Please do let us know how we can effectively support the passage of C-15. We welcome the opportunity to meet with you to discuss how our communities might support the implementation of the Declaration in Canada.
Sincerely,
The Most Rev. Linda Nicholls, Primate, Anglican Church of Canada
The Most Reverend Mark MacDonald, National Indigenous Anglican Archbishop
Peter Reid, Executive Minister, Canadian Baptists of Atlantic Canada
Rob Ogilvie, Executive Minister, Canadian Baptists of Western Canada
Lana Robinson, Clerk, Canadian Friends Service Committee
Shannon Perez, Justice and Reconciliation Mobilizer, Indigenous Ministries, Christian Reformed Church
Rev. Darren Roorda, Executive Director, Canada Christian Reformed Church
Willard Metzger, Executive Director, Citizens for Public Justice
The Rev. Susan C. Johnson, National Bishop, Evangelical Lutheran Church in Canada
Rev. Erik Oland, S.J., Provincial Superior, Jesuits of Canada /Jésuites du Canada
Lori Ransom, Interim Executive Director, KAIROS
Doug Klassen, Executive Minister, Mennonite Church Canada
P. Luc Tardif, Supérieur provincial – Province Notre-Dame-du-Cap, Missionnaires Oblats de Marie Immaculée
Fr. Ken Thorson, OMI Provincial, OMI Lacombe Canada
The Rev. Amanda Currie, Moderator, 145th General Assembly, The Presbyterian Church in Canada
Download this open letter in PDF.
Read more about Bill C-15.