OPEN LETTER TO THE SENATE OF CANADA
Indigenous peoples' organizations participating in the UN Permanent Forum on Indigenous Issues urge Canadian Senators to support Bill C-262, the United Nations Declaration on the Rights of Indigenous Peoples Act.
The United Nations Declaration on the Rights of Indigenous Peoples sets out minimum standards necessary to combat some of the world's worst and most pervasive human rights abuses.
Indigenous peoples from all regions of the world worked diligently for more than two decades to reach agreement with states on these minimum standards. With the adoption of the Declaration by the UN General Assembly on September 13, 2007, we entered into an era where the proper question is no longer whether states should uphold these standards – the UN Declaration and at least 10 consensus resolutions from the UN General Assembly confirm that all states are expected to do so. The question now is how to best move forward with full and effective implementation.
In this light, our peoples and organizations are watching with great interest as Bill C-262 progresses through the Canadian Parliament with the prospect of becoming law this year. It is our understanding that the Bill does three things:
It calls on the Government of Canada to engage in a cooperative process with Indigenous peoples to ensure that Canada's laws live up to and support the minimum standards set in the UN Declaration.
It calls on the Government of Canada to work collaboratively with Indigenous peoples in Canada to create a National Action Plan for implementation, as urged by the UN Committee on the Elimination of Racial Discrimination in 2017.
It promotes transparency and accountability by requiring regular reporting to Parliament on progress toward implementation.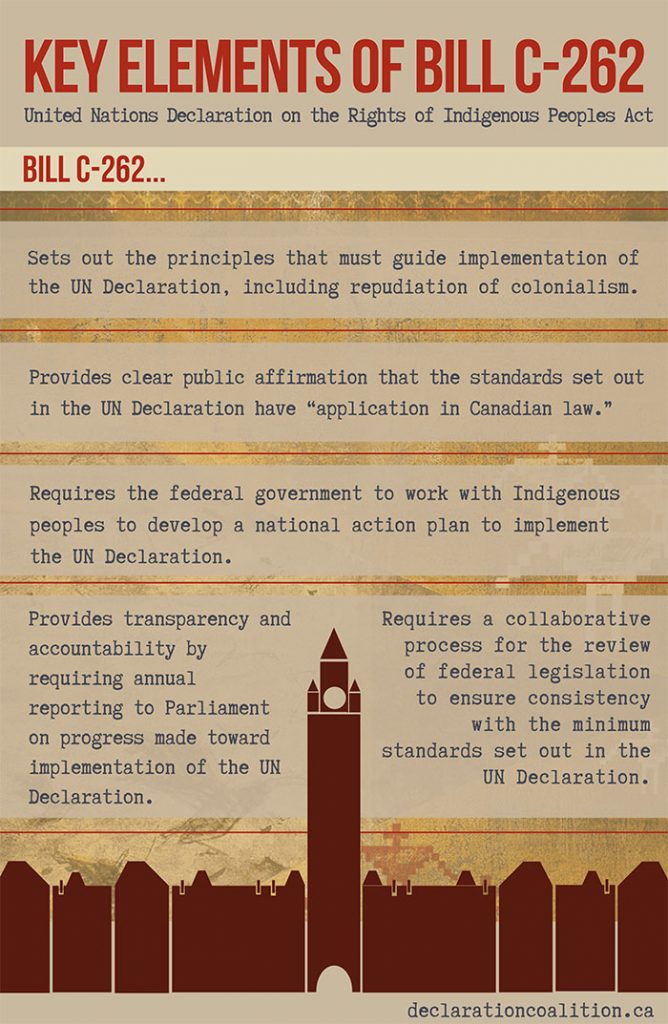 We believe that Bill C-262 represents a positive model for implementation of the human rights of Indigenous Peoples. We urge Canadian Senators to support its passage into law so that the federal government can set a positive example in Canada and also for other states.
This statement was endorsed by the following individuals and organizations:
Asia Indigenous Peoples Pact (AIPP)
Center for Support of Indigenous Peoples and Civic Diplomacy "Young Karelia", Russian Federation
Grand Conseil Coutumier des Peuples Amérindiens et Bushinenge, Guyana
Hawai'i Institute for Human Rights
Highlanders Association, Cambodia
Indigenous Peoples Network, Malaysia
International Indian Treaty Council (IITC)
Jeunesse autochtone de Guyane
National Congress of American Indians (NCAI)
Organisation des Nations Autochrones de Guyane francaise
Sami Council
Sami Parliament Norway
Carlos Chex, Experto Indígena, Consultor Independiente, Guatemala
Terri Henry, Independent Expert for North America
Mariam Wallet Aboubakrine, past chair, United Nations Permanent Forum on Indigenous Issues, and Tin hinane Sahel, Mali
Dr. Wilton Littlechild, IPC
Download this open letter in PDF.