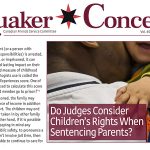 It's time to kick off 2019 with another edition of Quaker Concern, CFSC's 8 page print and digital newsletter.
In this issue Joy Morris sheds some light on how Canada may be failing children when their parents come into conflict with the law. Do Judges Consider Children's Rights When Sentencing Parents?
Bertha Small shares stories from trainings delivered and visits conducted with front-line peacebuilders and conflict transformers in one of the biggest and busiest cities on earth – Kinshasa, DR Congo. My Visit to Kinshasa, DR Congo
Manuela Popovici challenges settler folks to reflect deeply on the inner work we each need in order to engage in genuine reconciliation with Indigenous peoples. Reflections on the Inner Journey of Reconciliation
Tony McQuail explains why his new Canada Day celebration involves making a donation, which he doesn't see as "charity." Why I Support CFSC's Reconciliation Fund
And as always, we share some brief highlights from CFSC's work and recent travels in support of justice and peace.
All donors to CFSC receive a print copy of Quaker Concern FREE. Donate now to get yours.