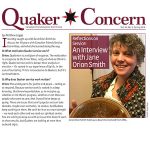 It's here! A brand new issue of our eight-page newsletter Quaker Concern is hot off the presses.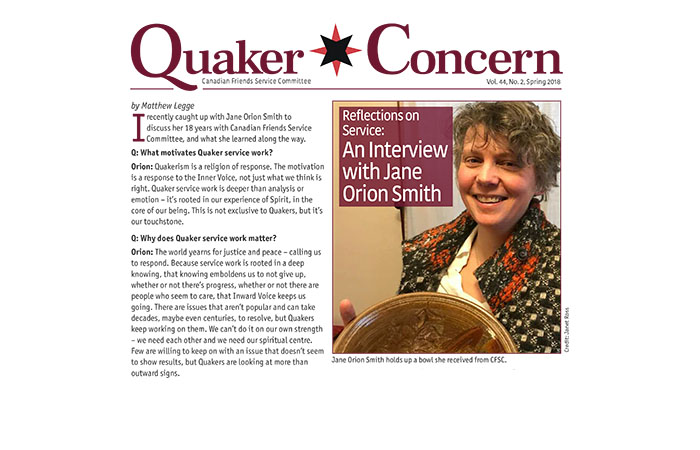 This issue starts with a moving interview with Jane Orion Smith discussing her 18 years of service work with Canadian Friends Service Committee and sharing wisdom learned along the way.
Dick Cotterill and Joy Morris explore a topic you might not have heard about – the challenges associated with Canada's aging prison population.
Jennifer Preston describes a tour of communities in northwestern British Columbia where she and CFSC associate member Paul Joffe were speaking about Indigenous Peoples' human rights.
Matt Legge shares news about the possible creation of a Canadian Ambassador for Women, Peace and Security and what that might mean.
As usual we also offer brief news updates and a look at recent travel undertaken in the work and witness of CFSC.
You can find the current and previous issues of Quaker Concern at http://quakerconcern.ca and as always, they're also available for download in PDF and are mailed in print copy to all donors who'd like them (contact us to find out more or donate to receive your print copy).