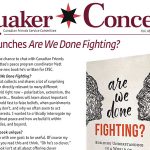 The Spring 2019 edition of Quaker Concern is out! FSC's 8 page print and digital newsletter,
In this issue Keira Mann and Matt Legge discuss CFSC's new book Are We Done Fighting? Building Understanding in a World of Hate and Division in the cover story CFSC Launches Are We Done Fighting?
Keira Mann describes her experience with a delegation of church leaders who visited Canadian senators to express support for Bill C-262 (An Act to Ensure that the Laws of Canada are in Harmony with the UN Declaration on the Rights of Indigenous Peoples). Church Delegation Visits Senate to Support Bill C-262
Daisie Auty describes the experience, which at times felt overwhelming, of participating in a two day dialogue about how children are impacted when their parents come into conflict with the law. Why I Stand Up for Respectful Dialogue
And we share some brief highlights from CFSC's work and recent travels in support of justice and peace.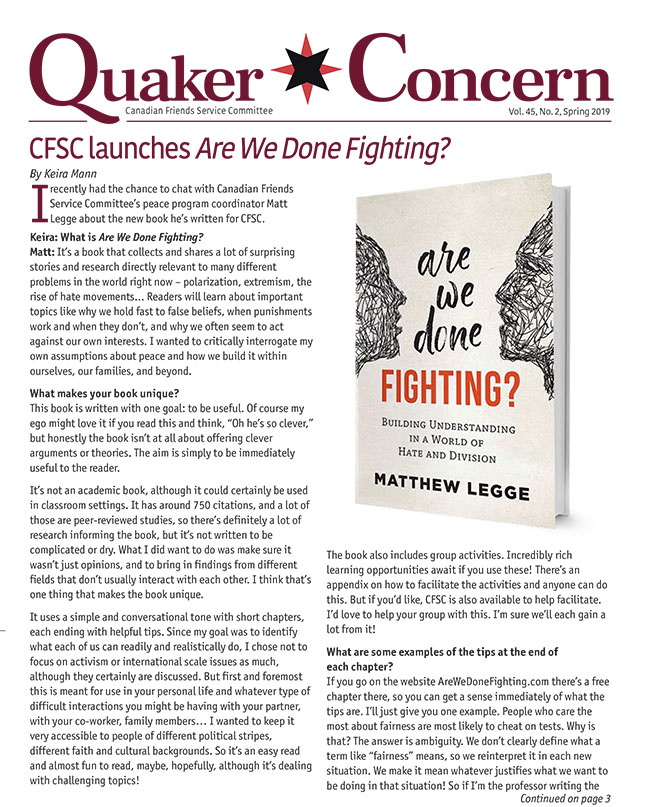 You can find the current and previous issues of Quaker Concern at https://QuakerConcern.ca, where you can also download them in PDF. All donors to CFSC receive a print copy of Quaker Concern FREE. Donate now to get yours.