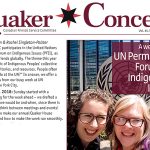 Quaker Concern Summer 2018 issue is out now. Our eight page print and digital newsletter Quaker Concern comes out three times a year to share news and stories from our work.

This issue starts with Jennifer Preston and Rachel Singleton-Polster offering a day by day description of what it's like to represent Quakers for a week at the United Nations.
Margaret McCaffrey and Verena Tan explore a major problem with a simple fix as they describe how people are being released from Canadian courts without their belongings and with no way to get them!
Keira Mann and Matt Legge look at conscientious objection to military service in Canada, and Canadian Friends' support for US war resisters and conscientious objectors in other countries, including Israel.
As usual, we also offer brief news updates and a breakdown of recent travel undertaken in the work and witness of CFSC. You can find the current and previous issues of Quaker Concern at https://quakerconcern.ca, where you can also download them in PDF.
Quaker Concern is also available in print copy to all donors (contact us to find out more).