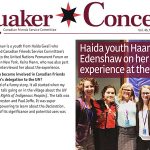 The Summer 2019 edition of Quaker Concern, the 8 page print and digital newsletter of Canadian Friends Service Committee, is here.
In this issue Keira Mann interviews 15-year-old Haana Edenshaw about her experience at the UN Permanent Forum on Indigenous Issues, which she says left her feeling changed as a person.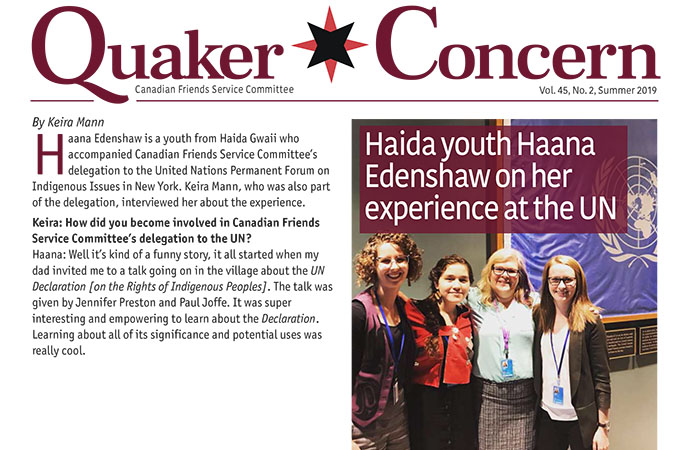 Matt Legge discusses Canadian Yearly Meeting in Session 2019 – a national gathering of Quakers that, in addition to community building and business, featured workshops, a lecture about African refugees, and a study of how settler colonialism in the Bible relates to Canada's historic and ongoing colonial practices.
Verena Tan reflects on the Missing and Murdered Indigenous Women and Girls (MMIWG) Inquiry report, Reclaiming Power and Place and asks significant questions about what our vision of justice is and can be.
Matt Legge considers the rising tide of hatred in Canada, a new federal anti-racism strategy, and the usefulness and drawbacks to a vague new definition of antisemitism.
And we share some brief highlights from CFSC's work and recent travels in support of justice and peace.
You can find the Quaker Concern summer 2019 issue at https://QuakerConcern.ca, where you can also download it in PDF.
All donors to CFSC receive a print copy of Quaker Concern FREE. Donate now to get yours.