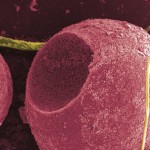 "Spiderweb" jackets, living shoes, edits to nonviable human embryos and much more is covered in the newest synthetic biology update from Canadian Friends Service Committee.

By combining biology, computer science, and engineering, synthetic biologists are creating novel life forms. Grounded in our values of peace, integrity, equality, simplicity, and respect for all creation, Quakers remain one of the few faith communities actively following developments in synthetic biology (SB). Wondering what Quakers have to do with SB? Read this 2 page handout to find out.

Part of our work in this area is to offer easily accessible updates on synthetic biology to be shared with Friends and the general public. We're pleased to release a second update for 2015 (PDF), and don't forget to read the first update (PDF).

As you read each piece of news we invite you to consider three queries:
How can we address the ecological dimension of synthetic biology? e.g. impacts on biodiversity, synthetic organisms being untested by evolution and ecosystems;

How can we address the social dimension of synthetic biology? e.g. equitable distribution of benefits, needs of the vulnerable; and

How can we address the spiritual dimension of synthetic biology? e.g. the sacred in living beings and in nature as regards SB; the valuing of technology as compared to human wisdom and inner truth.
Please send us any thoughts or feedback however brief or detailed.
Learn more about Friends' work on synthetic biology.