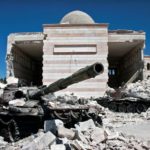 We watch with horror as news of atrocities and a seemingly intractable war in Syria reach us. We are tired of the same failed approaches that have led to the crisis in Syria. In the long term, these approaches seem mostly to help the few who profit from war but harm the bulk of soldiers and civilians on all sides. What else could have been done? Canadians care about peace, so how could Canada have supported prevention of the worst atrocities in Syria?

We don't claim to have all the answers to that difficult question. But we do hope to start some creative new thinking. Please share this video and consider using it for a group discussion.



This video was produced by Canadian Friends Service Committee and Canadian Peace Initiative. Learn more about a Canadian Department of Peace.

Learn more about what CFSC means by a culture of peacebuilding.