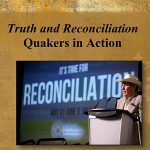 CFSC is pleased to release a new resource Truth and Reconciliation: Quakers in Action. It's full of useful information for Quakers and other Canadians seeking to engage with the TRC Calls to Action.
In our ongoing efforts to build capacity, we've produced this second resource on reconciliation. It's available for free download, or if you would prefer a hard copy, please contact the CFSC office.
TRC Resource Book

Read our 2017 report of the reconciliation actions of Friends from across Canada.
Learn more about truth and reconciliation.