Indigenous rights in Canada

CFSC works with many Indigenous partners and human rights organizations to hold Canada accountable to meet its responsibilities under domestic and international law. Our focus is on the full implementation of the United Nations Declaration on the Rights of Indigenous Peoples.
Together with our partners we regularly produce joint statements, open letters, and educational materials related to Indigenous peoples' human rights. Below is a description of some of our areas of work within Canada in recent years. (Also see our pages on truth and reconciliation and on the doctrine of discovery.)
Tsilhqot'in Nation's title case
Amnesty International and Canadian Friends Service Committee made formal interventions in the Tsilhqot'in title case to encourage the Court to adopt an approach to Indigenous land rights that would be consistent with international human rights standards, including the United Nations Declaration on the Rights of Indigenous Peoples. In an unanimous decision delivered June 26, 2014, the Supreme Court of Canada recognized the right of the Tsilhqot'in people to own, control, and enjoy the benefits of approximately 2,000 square kilometres of land at the heart of their traditional territory in central British Columbia.
We agree with the Court's statement that, "What is at stake is nothing less than justice for the Aboriginal group and its descendants, and the reconciliation between the group and broader society."
In its decision the Court advised, "Governments and individuals proposing to use or exploit land, whether before or after a declaration of Aboriginal title, can avoid a charge of infringement or failure to adequately consult by obtaining the consent of the interested Aboriginal group."
Read Tsilhqot'in Nation v. British Columbia in plain language. This document explains: Why did the Tsilhqot'in have to go to court? What did the lower courts say before the case reached the Supreme Court of Canada? What did the Supreme Court decide? What are some of the problems with the Supreme Court of Canada decision? Why is the decision important for the Tsilhqot'in people and all Indigenous peoples?
Discrimination against Indigenous children
The federal government spends significantly less per child for child welfare services on reserves than provincial counterparts spend in non-Aboriginal communities. A disproportionate number of Indigenous children are taken from their families and placed in foster care. A critical factor is the failure of the federal government to provide adequate funds for the delivery of early intervention and other preventative programs that are generally available to non-Indigenous families.
Children's rights are denied by indifference and legal technicalities. Indigenous peoples and human rights organizations urge all political leaders in Canada to end the discriminatory under-funding that is tearing apart Indigenous families.
With our partners we have made statements calling for an immediate end to discrimination against First Nations families.
Impacts of industrial projects on women and children
CFSC is deeply concerned by the impacts of resource development projects on many aspects of Indigenous peoples' human rights. We recommend reading this study, looking at what happens in remote Indigenous communities when industrial camps are setup. Findings include increased rates of sexual assault and violence, addictions, sexually transmitted infections, and family violence. The study was initiated by Lake Babine First Nation with the Nak'azdli Whut'en First Nation.
Grassy Narrows
In 1974 Friends learned about about mercury poisoning affecting the Anishinaabe communities of Grassy Narrows and White Dog in Ontario. Quaker medical doctors visited Grassy Narrows and worked with the community to document the mercury poisoning. Grassy Narrows continues to protest their on-going mercury poisoning as well as unauthorized development on their traditional territory.
For decades CFSC has joined many organizations in urging the Government of Ontario, forestry companies, and other corporations to respect international human rights standards that require the free, prior and informed consent of Indigenous peoples for decisions that affect their land and resource rights. See for example this joint statement (PDF, 2010) and this one (PDF, 2015). We continue to support Grassy Narrows and White Dog's long struggle for the basic necessities of life, including clean river systems to fish in and a minamata disease treatment facility in the community.
Project grants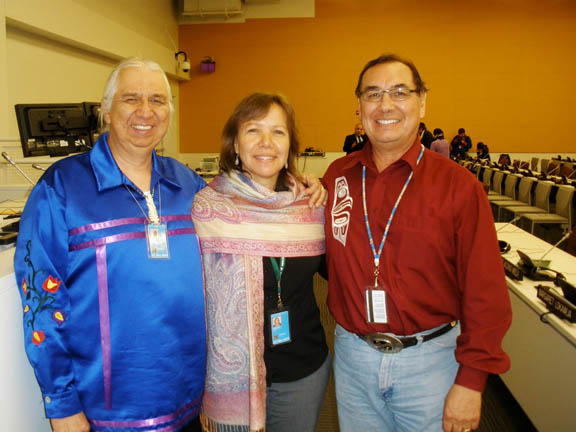 CFSC provides small grants to grassroots projects initiated by Indigenous peoples that contribute to their self-empowerment. Find out more. Below is an example of one of our project grants.
Smoke Signals
Smoke Signals is a radio program that "aims to educate the public about the worldview of the First Nations cultures of North America." The show is based in London, Ontario and hosted by Indigenous elders Dan and Mary Lou Smoke. CFSC financially supports this program in its efforts of promoting cultural awareness.