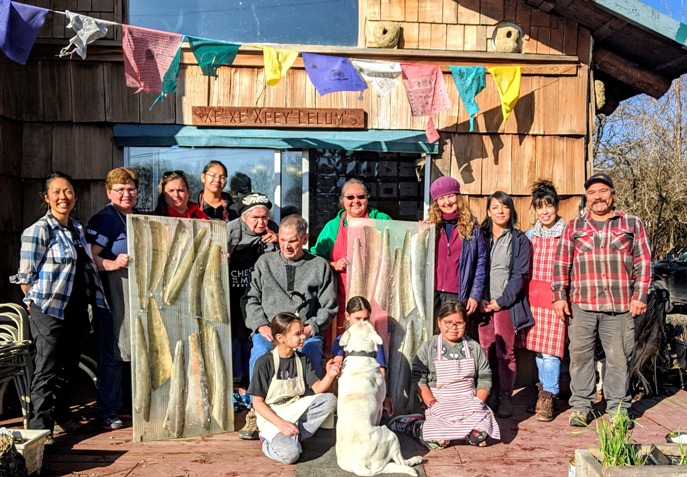 "I support the Reconciliation Fund out of a sense of responsibility, accountability, and obligation. As I have learned more about the failure of my settler predecessors to honour their treaty obligations, and about the damage of the residential school system, I've developed some appreciation of the past and continuing injustices that carry forward for both the Indigenous and settler descendants who call Canada home."
~ Tony McQuail, CFSC Reconciliation Fund donor

The CFSC Reconciliation Fund was established in 2017 in response to an individual Friend's leading to contribute to reconciliation by donating a portion of his annual income to reconciliation initiatives. The purpose of the Fund is to support the grassroots, community-based efforts of Indigenous people in Canada who are working on cultural and language revitalization and other projects.
You can donate to the fund however and whenever you're led: in the form of one-time donations, a monthly contribution, or as a percentage of your annual income.
Read an article from Tony McQuail about why he gives to the reconciliation fund.
Grant decision-making and governance
The Reconciliation Fund is assisted by a Grant Advisory Committee, which advises on CFSC's decisions on grant applications. The Grant Advisory committee is made up of Indigenous individuals with whom CFSC has existing partner relationships.
Information for applicants
Interested in applying for a grant from the Reconciliation Fund? This document (PDF) provides information on who can apply and how to submit an application.
Previous grant recipients
Iakwahwatsiratatie Language Nest (2021)
The goal of the Iakwahwatsiratatie Language Nest is to create a language learning environment where parent will develop an understanding of how the Kanien'keha language works and build confidence to use Kanien'keha on a daily basis as well as teach it to their children. Funding from the Reconciliation Fund will be used to produce a family oriented Kanien'keha song book entitled, Tsi Non Kanatiio:ke.
Kanehsatà:ke video project (2020)
A video project marking the 30th Anniversary of the 1990 Kanehsatà:ke Siege, also known as the 1990 Oka Crisis. The project is a documentary that will be comprised of a commentary-style format inclusive of interviews with elders and art work. It will attempt to demonstrate the links between climate change and the importance of Indigenous peoples' traditional knowledge, showing the inextricable link of the land and Indigenous peoples.
Georgetown Hul'q'umi'num' (Coast Salish language) class (2019)
This CFSC Reconciliation Fund grant went towards bringing Janey Chang from Vancouver to teach the class the lost art of making leather from fish skins. Janey has put in a lot of effort researching and bringing back this skill. This is especially appropriate to Cowichan since salmon are the mainstay of the culture.
Haida Youth at the UN Permanent Forum on Indigenous Issues (2019)
An Indigenous teenager from Haida Gwaii, Haana Edenshaw, received a grant from the Reconciliation Fund to attend the UN Permanent Forum on Indigenous Issues in New York in order to learn and participate in the international mechanism. She joined CFSC's delegation and made a number of speeches and presentations. See Haana's speech made entirely in her Haida language.
Smoke Signals (2019)
This grant was to help fund the purchase of new equipment for the educational Indigenous radio show, Smoke Signals hosted by Dan and Mary Lou Smoke.
Kontinonhstats—Mohawk Language Custodians Association (MLCA) (2018)
This grant went towards research and curriculum development for Kanien'kéha language classes and cultural content.
Donate to the Reconciliation Fund