Board of directors (alphabetical by last name)
Click on a board member's name to read their bio. Board members with a title listed can be emailed about that area of work. ("Clerk" is equivalent to what a non-Quaker organization would call "Chair" of a board committee or "President" of the board.)

Daisie Auty (Toronto Meeting), clerk, criminal justice work
Daisie is a social worker and psychotherapist in private practice. She cares deeply about healing and about the wellbeing of children. She's passionate about abolishing punishment as a response to crime and about Alternatives to Violence Project. She finds the chance to have close working relationships with staff to be the most rewarding part of her service on CFSC. She enjoys dancing, which can be a form of joyful moving meditation for her.
Email Daisie
.

Brenda Bratton Blom (New Brunswick Meeting)
Brenda grew up in the southern US. She is retired from a career as a Community Economic Development (CED) lawyer and clinical professor at the University of Maryland Francis King Carey School of Law. She represented non-profit community based organizations in some of Maryland's most challenged communities. She holds a Bachelor of Arts and a Juris Doctor from the University of Baltimore and a Master's and PhD from University of Maryland, Baltimore County. She feels a deep commitment to CFSC's work and values, having grown up in a family of faith-based activists. She feels that it is only by seeing the Light of God in all that we can see our way forward in the difficult situations that CFSC works to address. She finds pleasure in family, art, and writing.

Peter Cross (Hamilton Meeting), Treasurer
Born in Niagara Falls, New York and after a couple of years in Roswell, New Mexico (yes, that Roswell), Pete started his accounting career working for a mid-size accounting firm in Hamilton. He is retired from a 45-year-long career as a chartered accountant where he ran his own practice and later became a partner at Taylor Leibow. He has been very involved in refugee resettlement, in particular of Vietnamese and Central American refugees. He has long felt a strong desire to be of service within the Quaker community, which has led to his decades of involvement with CFSC, frequently as the Treasurer. Pete considers himself to be an athlete and now enjoys curling and bowling.
Email Pete
.

Lillian Henegar (Cowichan Valley Meeting)
Lillian's parents became Quakers when she was a baby. The family moved to a farm outside Bloomington, Indiana, where she grew up. She earned her bachelor's in psychology from Bryn Mawr College and later in life her Master's of Public Administration from CUNY—Baruch College. As a single mother, she started out doing clerical and bookkeeping to survive. Then she found more fulfilling work, if varied: fundraising for higher education, community organizing, communications and legislative advocacy in Indiana and California, and finally retiring after serving as an elected official overseeing a fire department and emergency social services for an Indiana township. Being in Quaker spaces fills her cup. Lillian knits and crochets and enjoys reading both fiction and nonfiction.

Rob Hughes (Vancouver Meeting), clerk, Indigenous rights work
Rob is a lawyer with a passion for human rights work. In 1984 shortly after being called to the bar he and his business partner established the first law firm in Canada advocating for human rights for the LGBTQ+ community and persons living with HIV. In the '90s Rob focused on immigration issues for same-sex couples and refugees fearing persecution because of their sexual orientation, gender identity or expression, and sex characteristics. In 2004 Rob and his husband Allen Hunt were the first same-sex couple to have a legal marriage under the care of a Quaker Meeting. Later that year he argued in support of same sex marriage before the Supreme Court of Canada. Allen was born in Bella Bella and is a member of the Haíłzaqv (Heiltsuk) Nation and Rob has always felt a strong calling to work that supports the realization of Indigenous peoples' human rights and builds relationships between Indigenous peoples and settlers to further the process of reconciliation. This meant that joining CFSC was a natural fit. Rob enjoys baking.
Email Rob
.

Ro Fife (Cowichan Valley Meeting)
Ro brings a strong feminist lens and a passion for equality to all of her work (both paid and as a volunteer). Her formal education includes studies in Canadian Social and Women's History from Carleton University (BA Honours and Graduate Program) as well as a Bachelor in Education from University of Ottawa. Initially working directly as an educator in public school systems, she has spent most of her career in the nonprofit social recreation sector. After spending 15 years as an administrator and family program coordinator for young children and their immediate caregivers, she now works at a daytime activity centre for older adults. She's much happier helping people directly on a daily basis and uses her teaching and history background every day in her current work. She likes urban birding, travel, and is an avid basketball fan.

Lana Robinson (Cowichan Valley Meeting), Personnel Clerk
Lana was on the cutting edge of the fair trade movement in the early '90s, establishing the only independently owned Fair Trade store in Western Canada at the time. Lana's experience showed her that she can effect changes in the world and taught her about organizing on the grassroots level. Her calling to not be idle in the face of injustice led her to service on CFSC. This relieves the tension of feeling helpless in the world, while being particularly gratifying when there are incremental (and giant!) achievements toward justice and peace. She fondly remembers doing an internship with the Quaker United Nations Office in Geneva as part of her Bachelor's Degree in Global Studies and Psychology from Vancouver Island University. Lana loves hiking and getting out in the woods.
Email Lana
.

Vince Zelazny (New Brunswick Meeting), Clerk
Vince lives in New Brunswick but grew up Catholic in Quebec and attended McGill University where he received a B.Sc. in biology. He then taught secondary school in central Nigeria for two years. An MSc in Forestry at the University of New Brunswick and life in the Maritimes followed. He met a Quaker sociologist and soon found himself facilitating Alternatives to Violence Program workshops in prisons. He became a Quaker and joined CFSC to further engage his desire for a more peaceful and just world. As a forest ecologist he helped to justify and establish 1,420 square kilometres of new nature preserves. He is the past president of the Nature Trust of New Brunswick where he engaged in collaborative work including Indigenous land concerns. Vince enjoys being in the wild places in summer, skiing in winter, and singing in choirs.
Email Vince
.
Canadian Friends Service Committee has members from across Canada. Canadian Yearly Meeting appoints people to CFSC for three-year, renewable (once) terms. Members then appoint some amongst them to be the board of directors. The following Friends are currently members but not on CFSC's board of directors (alphabetical by last name):
Ellen Judd (Winnipeg Meeting)
Madelyn MacKay (Argenta Meeting)
Susan Macphail (Coldstream Meeting)
John Samson Fellows (Winnipeg Meeting)
Jocelyne Tranquilla (Halifax Meeting)
Rachel Yordy (Vancouver Meeting)
Staff (alphabetical by last name)
Click on a staff person's name to read their bio and/or to email them.

Dalya Eidda, CFSC Administrator
Dalya learned about Quakers while attending Quaker schools—the Ramallah Friends School in Ramallah Palestine, and for a year Westtown School in West Chester, Pennsylvania. She later came to Canada to study at the University of Toronto, where she got a combined specialist in History and Political Science with a Minor in Women and Gender studies. She finds working at CFSC rewarding because of the interesting variety of work she does and the volunteers and staff she works with. She practices yoga to help her return to inner stillness in moments when things need recentering. Dalya enjoys baking and reading in her spare time.
Email Dalya
.

Matthew Legge, Communications Coordinator
Matt has worked in the nonprofit sector since 2006 as a staff person, consultant, and volunteer supporting locally-led programs in many parts of the world. He's passionate about making communication honest, simple, and accessible. To that end with help from various Friends he wrote the award-winning book
Are We Done Fighting? Building Understanding in a World of Hate and Division
as part of his work for CFSC. He continues to write a blog for
Psychology Today
to help spread evidence-based peace and social justice ideas. He has a degree in Anthropology from the University of Toronto. He served for six years on the board of directors of the Ontario Council for International Cooperation. In his spare time he loves making music and playing basketball.
Email Matt
.

Jennifer Preston, General Secretary and Indigenous Rights Program Coordinator
Jenn grew up a Quaker and has always felt a calling to Quaker service work. Her undergraduate work was a double honours in Anthropology and Dramatic Arts. At the University of Guelph she did her Master's thesis on Tomson Highway, whom she worked with at Native Earth Performing Arts. She has been at the forefront of CFSC's work in solidarity with Indigenous peoples for nearly 30 years. This work first had her in countless meetings to support the adoption of the
UN Declaration on the Rights of Indigenous Peoples
. Ever since its adoption in 2007, she has worked to educate about the
Declaration
and to see it fully implemented. The most rewarding experience of Jenn's career has been witnessing and being an integral part of CFSC's growth (when she started there were only two other staff). Jenn loves horseback riding.
Email Jenn
.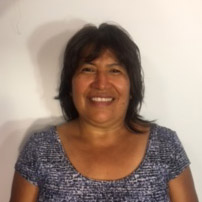 Priscila Recinos, Finance Assistant
Priscila feels for people living through war because she has experienced it directly herself. Her family left the dangers of civil war in El Salvador and eventually came to Canada. Dedicating her career to supporting CFSC, an organization that works for peace, feels like the right thing to do because it connects to her personal experiences. She's glad to work for an organization where she feels respected and valued. Prior to joining the CFSC team Priscila has decades of experience bookkeeping both in the for profit sector and with Elizabeth Fry Society, where she worked for 20 years.
Email Priscila
.

Nancy Russell, Criminal Justice Program Coordinator
Nancy is a Child and Youth Care Practitioner and holds an Advanced Certificate in Alternative Dispute Resolution from the University of Windsor (Faculty of Law) as well as "trainer" status in Compassion Fatigue, Negotiation, and Restorative Justice work. She has worked both front line and management positions in many settings: children's mental health centres, youth justice facilities, group homes, outreach, and hospitals in both urban and rural environments. Directly prior to her work at CFSC, Nancy was at the Office of the Ontario Child Advocate for over 10 years where she acted as team lead for systemic reviews, youth liaison regarding Coroner's inquests, and developed numerous child rights presentations for groups across the province. Nancy taught the Community Resources and Legislation course at Humber College and supervised internships in the Child and Youth Worker Program for many years. She uses a trauma-informed approach. Nancy loves singing, especially show tunes!
Email Nancy
.

Jeremy Vander Hoek, Assistant, CFSC Events and Indigenous Rights
Jeremy has been involved in reconciliation and UN Declaration work for a few years now, primarily as a volunteer through his church. He has co-facilitated workshops on reconciliation and participated in a number of advocacy campaigns including during the Senate's consideration of Bill C-15, the private members bill aimed at implementing the UN Declaration on the Rights of Indigenous Peoples in Canada. Jeremy has a Bachelor's Degree in Sociology from the University of Waterloo and a Master's Degree from the Balsillie School of International Affairs in Global Governance. His major research paper focused on bureaucracy and Bill C-15. Jeremy recently got a new bicycle and is learning to love riding again.
Email Jeremy
.
Sandra Wiens, Government Relations Representative
Sandra has been working in the nonprofit sector since 2005. Her career has focused in particular around gender equity and health policy advocacy. She has worked internationally on development projects, program development and partnership building with various organizations in South America, Canada, and Australia. Sandra studied International Development and Conflict Resolution Studies at the University of Winnipeg, and feels drawn to how the work of CFSC combines these two streams of study in a practical way. This is her second time working with CFSC, having started her career in 2005 with the Quaker International Affairs Programme (QIAP). She loves cooking and sharing food and meaningful conversation around a table.
Email Sandra
.