Ruth Lor Malloy is, among many other things, a former staff person of Canadian Friends Service Committee. Her life, full of justice and peace work, may inspire you. Her new book shares her story as a Chinese-Canadian who's found Quakerism helpful in her struggle against racism. Ruth, 91, was awarded an honorary doctorate by York University earlier this year for her "tireless efforts to combat discrimination and promote equality in Canada and beyond."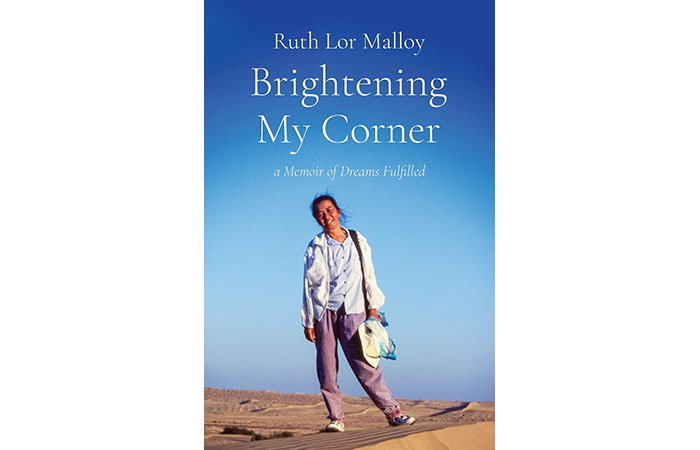 The following is a brief extract from Ruth's new memoir Brightening My Corner: A Memoir of Dreams Fulfilled.
I worked for almost two years in the 1960s as a volunteer for the American Friends Service Committee sponsored Conferences and Seminars Program in Asia.
I helped arrange one of the diplomats' conferences too. Its main purpose was to create an atmosphere where people who differed politically, religiously, and culturally could grow to understand and appreciate each other. We provided a neutral setting so they could discuss their differences as humans rather than as mouthpieces for their governments. Discussions were informal and everything was "off the record." Each government covered the expenses of its own diplomats because countries felt their participation was important. We hoped the diplomats would get together and solve mutual problems and convince their governments to do likewise.
Our Indonesian conference was with medium-ranking diplomats at a mountain resort. We had counsellors and secretaries from 24 countries, both east and west, including the U.S. and the Soviet Union. They came together for ten days to discuss subjects like co-existence, technical aid, and the prospects for international law. Our speakers included university professors and government leaders. For two of our meetings, we had Dr. Han Suyin, author of A Many-Splendoured Thing. Her pro-Communist China views stimulated much discussion.
Did the conferences help overcome any major conflicts? I don't know, but it was gratifying to hear a socialist diplomat joke afterwards to a western one, "Before the conference, you were my enemy," he said. "Now you are my friendly enemy."
…
The seminars with the younger people were more relaxed. They were basically like the one in Port Dickson. We hoped to make these future leaders aware that the problems in their own countries were similar to those in other countries in the region; for example, in much of Asia, the education system was geared towards examinations and memorization of facts, with not much creative thinking. We invited scholars, journalists, and government officials to lead discussions on the value of minority groups, the prospects for regional cooperation, and the problem of overpopulation. We usually included the conflict between western values and traditional ones like love marriages versus arranged marriages. We, the organizers, did not take sides.
The results were very satisfying. It was really great to see a Pakistani and an Indian sit down and discover they had something more in common than their mutual disagreement on the Kashmir issue. Unfortunately, the Kashmir dispute still exists to this day.
It was also encouraging for us to hear a Thai delegate admit that she had altered her traditional hatred of the Chinese because she found some Chinese she liked. One of the most dramatic moments came when a Japanese student admitted he had come to Southeast Asia to tell people there about the shame some Japanese young people felt about the Japanese aggression. At our seminar, he met an actual victim for the first time. Hiroshi was stunned when he realized that his countrymen had killed the father of his new Singaporean friend. All he could say was "I'm sorry. I'm sorry." The young Singapore man tried to console him. "It wasn't your fault," he said kindly.
Alas, although some world problems, like the admission of mainland China to the United Nations and the wiping out of smallpox have been solved, many of the problems we discussed still exist today, but we must not give up trying.