Penal Abolition & Restorative Justice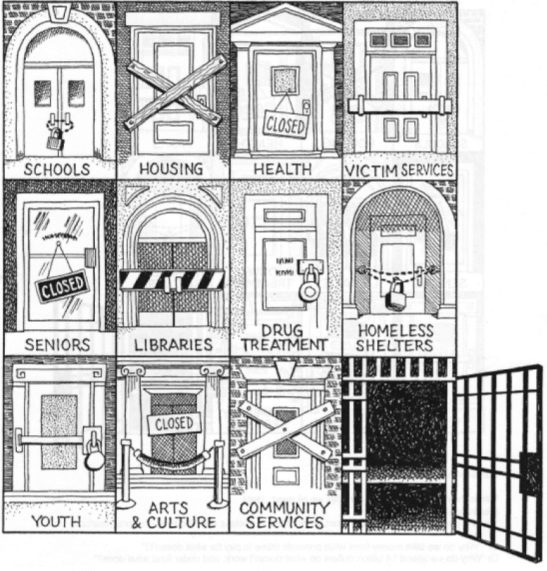 Image credit: William Waltzman
In 1981, Canadian Quakers became the first religious body to officially endorse prison abolition. At Canadian Yearly Meeting in session, Friends adopted a minute (PDF) that stated in part:
The prison system is both a cause and a result of violence and social injustice. Throughout history, the majority of prisoners have been powerless and oppressed. We are increasingly clear that the imprisonment of human beings, like their enslavement, is inherently immoral, and is as destructive to the cagers as to the caged.
…
Prison abolition is both a process and a long-term goal. In the interim, there is a great need for Friends to reach out to and to support all those affected: guards, prisoners, victims and families.
CFSC's current criminal justice work arises from a vision of penal abolition (PDF) – seeking to eliminate the punitive mindset that pervades society and justice systems. Penal abolition acknowledges that the harm caused by prisons results from a systemic justice foundation that focuses on punishment. Changing this mindset means transforming harmful approaches to ones that are healing.
The term "penal" originates from the Latin and Greek words for punishment, and to "punish" is to cause suffering. It is the suffering inherent in the justice system that Quakers wish to abolish − for victims, perpetrators, institutional staff, families, and communities.
For more information on penal abolition, see our documents From Harm to Healing: Transforming the Justice System and Alternatives to Prison (PDF).
Restorative Justice
Transformative justice uses the power unleashed by the harm of a crime to let those most affected find truly creative, healing solutions. Transformative justice includes victims, offenders, their families, and their communities, and invites them to use the past to dream and create a better future.
~ Ruth Morris in Stories of Transformative Justice (2000)
CFSC supports restorative justice and rehabilitative practices as an alternative to prisons and a punitive criminal justice system. Restorative justice acknowledges that criminal behaviour causes community harm to victims, communities and also offenders. Rather than punishing an offender, CFSC encourages the use of practices that focus on healing and restoring community balance, including structural injustices that lead to crime and inequality.
Quakers in Canada and CFSC have been active in supporting restorative justice initiatives such as the Alternatives to Violence Project, Circles of Support and Accountability and volunteering at their local prisons. Watch this video of Toronto Friend Keith Maddock talk about his experience volunteering for 20 years in the Don Prison in Toronto:
CFSC also engages in education and policy work in restorative justice through our partnerships with the National Associations Active in Criminal Justice (NAACJ), the Church Council on Justice and Corrections (CCJC), the Canadian Criminal Justice Association (CCJS), the Canadian Coalition for the Rights of Children (CCRC), the Canadian Families and Corrections Network (CFCN) and the Collaborating Centre for Prison Health and Education at the University of British Columbia.
Below are some examples of our work promoting and supporting alternatives to prisons including work of our partners:
Contact us for more information.