We're the national peace and social justice agency of Quakers in Canada. This is a special moment because we'll be taking your concerns directly to decision makers in a much bigger way. For the first time in our more than 90 year history, we've hired a Government Relations Representative.
Your voice, grounded in our Quaker approaches that need to be heard, will reach decision makers more than ever before. We'll keep doing grassroots peace and justice work, but now we're also expanding into having a deeper policy influence.
Listen to several members of our board of directors explain why this excites them:
These efforts in Ottawa can't happen without you
Will you help to make this growth a success? Please give a one-time donation in support of our efforts to expand and have more influence on the justice and peace issues that matter to you.
Welcoming Sandra Wiens
We're so pleased to welcome our new Government Relations Representative, Sandra Wiens!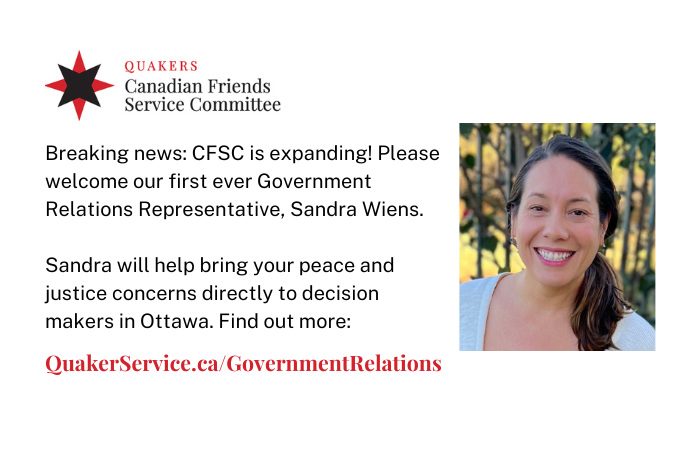 The above graphic is perfect for sharing this happy news on social media
Sandra brings to CFSC over 15 years of experience working on social justice issues with a focus on gender equity and health policy advocacy. She has worked internationally on program development and partnership building for nonprofits in South America, Canada, and Australia.
Sandra spent seven years in Ottawa working with various nonprofits (among them the Quaker International Affairs Program, a former program of CFSC's), successfully establishing relationships and developing networks with government, civil society, and all relevant actors. Sandra is multilingual, speaking English, Spanish, Portuguese, and French.