Peace Research: The Canadian Journal of Peace and Conflict Studies is the premiere academic journal in Canada covering peace issues. It has been in publication since 1969.
Peace Research has a new edition out and CFSC's Matt Legge was invited to contribute an article. Since the readership is likely to be Peace and Conflict Studies professors and students in Canada, Matt focused his article for them.
The article explores the phenomena of bitter polarization and "culture wars". It discusses what they are. It presents some of their drivers (including the thorny topics of truth and of victimhood). Most importantly, though, the article encourages experts in peace and conflict studies to be bold and to actively contribute their knowledge to inform social justice activism.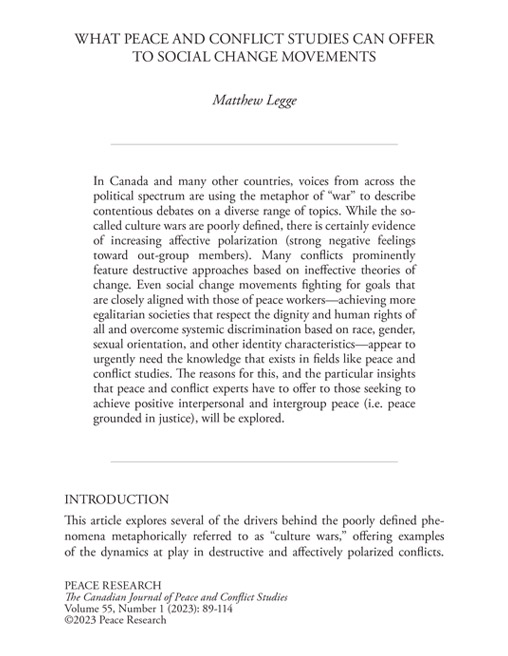 Matt notes that achieving positive peace—peace grounded in justice—is a goal that can "unite countless peacebuilders and social justice advocates alike." But, he contends, academic silos are contributing to theories and approaches to social justice that are sometimes ineffective and even backfire.
Matt highlights several of the key lessons from Peace and Conflict Studies that activists for positive peace could  benefit from knowing.
He also touches on what Friend Gianne Broughton calls the Four Elements of Peacebuilding and why understanding these could contribute to more successful (and less destructive) work for social change, even on highly contentious issues.
You may be able to access the full journal via your public library or academic institution. You can download Matt's article on its own (PDF).
We run free skill-building workshops to learn more about how you can contribute to positive peace. You may also be interested in our 2023 pamphlet Being a Quaker, Being an Activist.