Dear Prime Minister Trudeau,
The undersigned, representing a cross-section of Canadian labour, arms control, human rights, international security, peace, and other civil society organizations, are writing to reiterate our continued opposition to the Canadian government's issuance of arms export permits to Saudi Arabia.

Now entering its sixth year, the war on Yemen has killed almost a quarter of a million people, and Yemen today remains the worst humanitarian crisis in the world. Over 4 million people have been displaced because of the war, and 80% of the population, including 12.2 million children, are in desperate need of humanitarian assistance.

On February 4, 2021 President Joe Biden announced the US would be freezing all American arms sales to Saudi Arabia and ending all US support for the Saudi-led war on Yemen. A week earlier, on January 25, 2021, a Global Day of Action to End the War on Yemen was held, which included the participation of civil society, labour and anti-war groups from across Canada, with protests, car caravans, events and arms-blockades in Vancouver, London, Hamilton, Montreal and Halifax.

Germany and Italy have also recently banned or halted arms exports to Saudi Arabia, while the EU Parliament urged its members to halt arms sales to UAE and Saudi Arabia on February 11, 2021.

Canadian civil society has spoken out against the multi-billion-dollar arms deal with Saudi Arabia since it was first signed, and has frequently highlighted the risks associated with the use of LAVs within Saudi Arabia in the context of broader human rights concerns, as well as in the Yemen conflict, including the risk of weapons proliferation to Houthi forces.

In March 2019, August 2019, April 2020 and September 2020 you received letters in which dozens of organizations representing millions of people across Canada repeatedly raised concerns about the serious ethical, legal, human rights and humanitarian implications of Canada's ongoing arms exports to Saudi Arabia. We regret that, to date, no response to these concerns has been received from you or relevant Cabinet ministers. Two Canada-wide days of action were held on June 11, 2020 and September 21, 2020. These demanded that the government end arms sales to Saudi Arabia and included demonstrations outside MP offices across the country, the GDLS-C factory in London, Ontario, where LAVs sold to Saudi Arabia are made, and GDLS-C's headquarters in Ottawa.

On September 28, 2020, the UN Human Rights Council named Canada as one of the parties fuelling the ongoing war in Yemen by continuing arms sales to Saudi Arabia. It is unacceptable that Canada is involved in this trade and disgraceful that Canada is the second-largest supplier of arms to the entire Middle East region. According to the Export of Military Goods report for 2019, Canada exported approximately $3.8 billion to countries other than the U.S. $2.7 billion of this was to Saudi Arabia.

In Human Rights Watch's scathing 2021 World Report on Yemen, Canada is noted as one of the countries that continues to supply arms to Saudi Arabia despite documented evidence of continuing violations of laws of war by the coalition, and documentation of the use of Canadian weapons in the war.

UN agencies and humanitarian organizations have repeatedly documented that there is no military solution possible in the current conflict in Yemen. The constant supply of arms to Saudi Arabia only prolongs hostilities, and increases the suffering and numbers of the dead.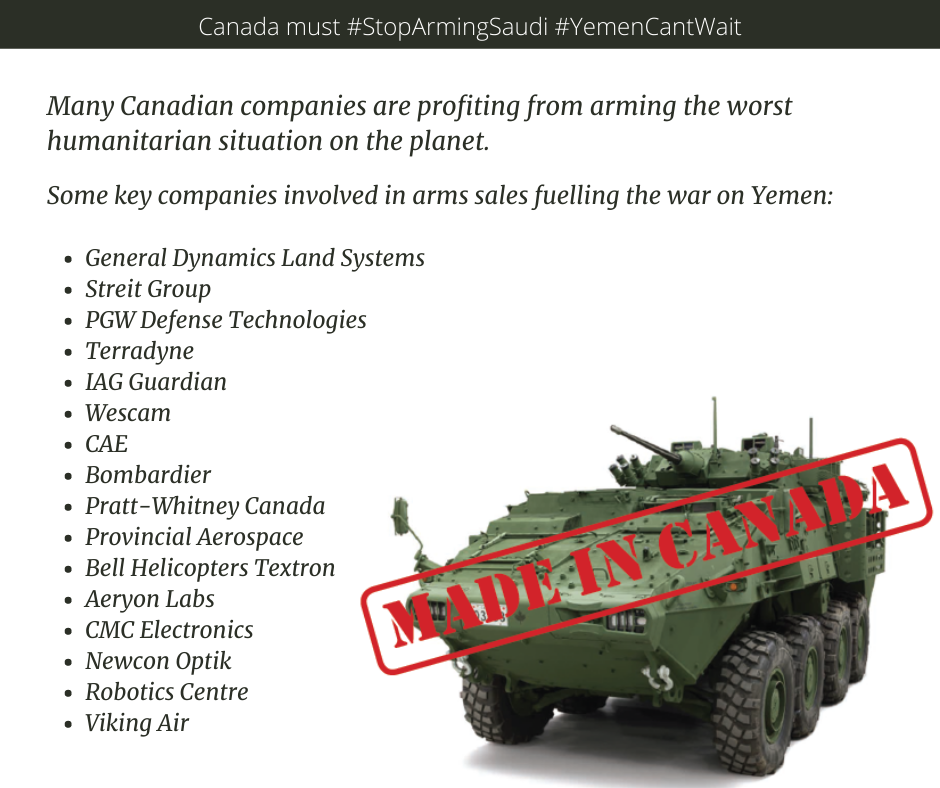 Many Canadian companies are profiting from arming the worst humanitarian situation on the planet. Some key companies involved in the arms sales to Saudi Arabia and other Middle Eastern countries that are part of the coalition involved in the war in Yemen are:
❏ General Dynamics Land Systems
❏ Streit Group
❏ PGW Defense Technologies
❏ Terradyne
❏ IAG Guardian
❏ Wescam
❏ CAE
❏ Bombardier
❏ Pratt-Whitney Canada
❏ Provincial Aerospace
❏ Bell Helicopters Textron
❏ Aeryon Labs
❏ CMC Electronics
❏ Newcon Optik
❏ Robotics Centre
❏ Viking Air

Some of the GDLS sub-contractors in the LAV supply chain include:
❏ Armatec (Dorchester, ON)
❏ Attica Manufacturing inc. (London, ON)
❏ Battlefield International (Cayuga, ON)
❏ DEW Engineering (Miramichi, NB & Ottawa)
❏ FPH Group (London, ON)
❏ General Kinetics (Brampton, ON)
❏ PRO Metal Industries (SK)
❏ SED Systems (SK)
Some companies in Canada involved in the transport of arms en route to Saudi Arabia are:
❏ Port of Saint John, New Brunswick (port of call of Saudi national shipping company)
❏ Port of Montreal (entry point for LAV cannons and turrets imported from Belgium by
General Dynamics Land Systems-Canada)
❏ CN Rail (transports LAVs on rail)
❏ Paddock Transport International (truck transportation of LAVs)

Canada acceded to the international Arms Trade Treaty in September 2019. We ask the Canadian government to now ensure compliance with all the articles and principles of the Treaty.

Canada must end all arms exports to Saudi Arabia immediately and expand humanitarian aid for the people of Yemen.

We recognize that the end of Canadian arms exports to Saudi Arabia will impact workers in the arms industry. We therefore urge the government to work with trade unions representing workers in the arms industry to develop a plan that secures the livelihoods of those who would be impacted by the suspension of arms exports to Saudi Arabia. Such a plan would include providing government support for the conversion of arms manufacturing facilities from arms production to peaceful, green production. This can be done in a phased manner so jobs are not lost, but the transformation must start now. We envision Canada taking on a role as a peaceful nation that promotes positive peace and human rights and that does not arm other countries, least of all those involved in war crimes and ongoing human rights abuses.
For a list of all 68 signatories to this open letter download it in PDF. Learn more about Canadian Friends' concern over Canada's involvement in the arms trade.