The following Open Letter was published in The Hill Times on March 9, 2021.
"The United Nations Declaration on the Rights of Indigenous Peoples is the framework for reconciliation at all levels and across all sectors of Canadian society." – Truth and Reconciliation Commission of Canada, Principles of Reconciliation, Principle # 1.
Parliament has an historic opportunity to advance reconciliation.
The UN Declaration on the Rights of Indigenous Peoples is a consensus global human rights instrument, elaborating minimum standards for the "survival, dignity and well-being of Indigenous peoples." Implementation of these standards is vital to improving the lives of Indigenous peoples in Canada and around the world, and to upholding Canada's solemn and urgent human rights commitments.
Members of the House of Commons and Senate must ensure that Bill C-15, An Act Respecting the United Nations Declaration on the Rights of Indigenous Peoples, passes into law before this session of Parliament concludes.
The UN Declaration affirms the inherent rights of Indigenous peoples and the corresponding obligations of States. The Truth and Reconciliation Commission was right to put the Declaration at the heart of its vision for reconciliation. The Declaration condemns the racist and colonial doctrines, laws and beliefs that continue to cause so much harm to Indigenous peoples. It also provides the principles and mechanisms needed to redress these harms, as well as safeguards critical to ensuring these violations are never repeated.
Canada has repeatedly committed to implement the UN Declaration. The federal government has even stated this commitment in the preamble to recent Acts of Parliament like the Indigenous Languages Act. Bill C-15 is about putting these commitments into practice.
· Bill C-15 underlines and reinforces the UN Declaration's rejection of racism and other forms of discrimination, colonialism, forced assimilation and destruction of culture.

· The Bill requires the Government of Canada to work with Indigenous peoples to establish priorities and processes for implementing the Declaration's diverse provisions – and to report annually to Parliament on the progress made.

· The Bill provides clarity around the fact that the Declaration, like other international human rights instruments, is already being used by courts to interpret Canadian law.

· In particular, the Bill also requires a collaborative process of legal review and reform to bring federal laws into line with the human rights affirmed in the Declaration.
These are important, practical and achievable measures that deserve the support of all Canadians.
We are mindful that a previous effort to meet Canada's implementation obligations, Bill C-262, died on the Order Paper after unnecessary delay and obstruction in the Parliamentary process. We do not want any further delays in meeting Canada's obligations to implement the UN Declaration.
Some Indigenous peoples' governments and organizations, including some represented in this letter, are proposing or supporting amendments to clarify and strengthen Bill C-15. We believe that the Parliamentary process can accommodate a fulsome consideration of such amendments, while still ensuring that Bill C-15 is adopted before the end of the current session of Parliament.
Concrete measures to implement the UN Declaration in Canadian law and policy are necessary and overdue. Passage of Bill C-15 should be a top priority for all Members of Parliament and Senators.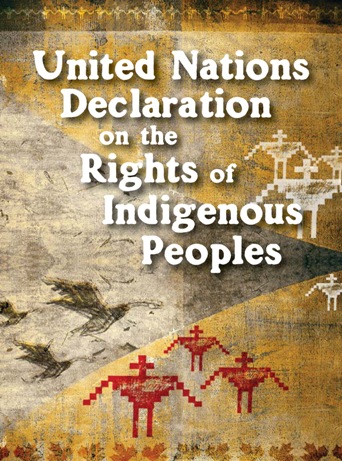 Nations, Governments, and Organizations
Amnesty International Canada / Amnistie Internationale Canada
Assembly of First Nations
BC Assembly of First Nations
British Columbia Treaty Commission
Canadian Arab Anti-discrimination Committee
Canadian Arab Federation
Canadian Council for Refugees / Conseil canadien pour les réfugiés
Canadian Friends Service Committee (Quakers)
Canadian Labour Congress
Canadian Parks and Wilderness Society, Yukon Chapter
Canadian Union of Public Employees / Syndicat canadien de la fonction publique
Chinese & Southeast Asian Legal Clinic
Citizens for Public Justice / Citoyens pour une politique juste
Colour of Poverty Colour of Change
Conseil central du Montréal métropolitain – CSN
Cooperation Canada
Dogwood
First Nations Summit
Grand Council of the Crees (Eeyou Istchee) / Cree Nation Government
The Hispanic Development Council
Hul'qumi'num Treaty Group (Cowichan Tribes, Penelakut Tribe, Halalt First Nation, Lyackson First Nation, Ts'uubaa-asatx First Nation)
Human Rights Research and Education Centre at the University of Ottawa
Human Rights Watch
Inuit Circumpolar Council
Jesuits of Canada / Jésuites du Canada
KAIROS: Canadian Ecumenical Justice Initiatives
Ligue des droits et libertés
McMaster Centre for Human Rights and Restorative Justice
Mennonite Church Canada Indigenous-Settler Relations
Métis National Council
Nunavut Tunngavik Inc
National Association of Women and the Law / Association nationale Femmes et Droit
Northwest Institute
OCASI – Ontario Council of Agencies Serving Immigrants
Oxfam Canada
The Presbyterian Church in Canada
Public Service Alliance of Canada / Alliance de la Fonction publique du Canada
Raoul Wallenberg Centre for Human Rights
RAVEN (Respecting Aboriginal Values and Environmental Needs)
Regroupement des centres d'amitiés autochtones au Québec
Skidegate Band Council
South Asian Legal Clinic of Ontario (SALCO)
Southeast Alaska Indigenous Transboundary Commission (SEITC)
For the full list of individual signatories download this open letter (PDF).