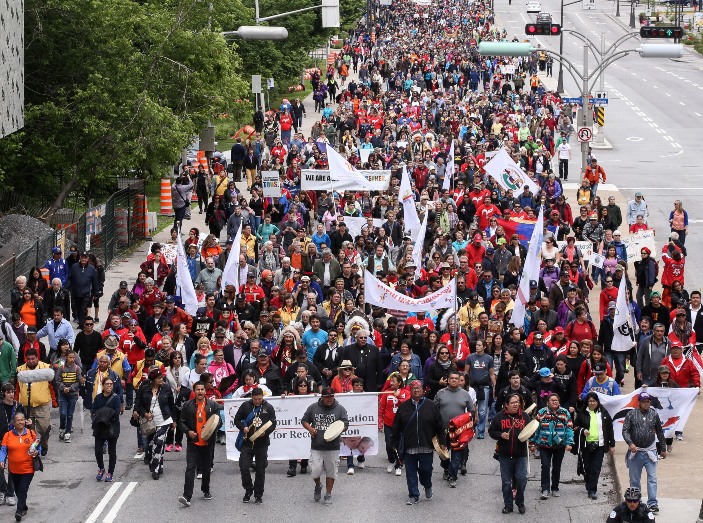 In 2007 the Truth and Reconciliation Commission of Canada (TRC) was established "to learn the truth about what happened in the residential schools and to inform all Canadians about what happened in the schools."
In 2015 the Truth and Reconciliation Commission released its Final Report and 94 Calls to Action. TRC Chief Commissioner Murray Sinclair said, "We have described for you a mountain, we have shown you the path to the top. We call upon you to do the climbing."
In 2011, Canadian Yearly Meeting, the national body of Canadian Quakers, had called on Quakers to actively engage in reconciliation efforts:
We are being invited by the Indigenous peoples of Canada as represented by the Indian Residential School Survivors, through the Indian Residential School Survivors Settlement Agreement, to enter a journey of truth finding and reconciliation. We encourage all Friends, in their Meetings for Worship and Monthly and Regional Meetings, boldly to accept this invitation and to engage locally, regionally, and nationally, actively seeking ways to open ourselves to this process…"
Following the release of the TRC's Final Report and Calls to Action, Friends expressed our continued commitment to learning and to engaging in the hard work of reconciliation, stating, "We appreciate reconciliation is an ongoing process and not a one-time event. As Friends, we are committed to walk this journey." We also noted that in our reconciliation efforts:
All actions require the guidance of the Indigenous peoples involved and need to be done with respect, cooperation, and ongoing consultation…. We acknowledge that part of our journey is to decolonize our own thinking and sit in the discomfort and pain of confronting where we need to deepen our understanding, bear witness, and transform our behaviour."
We encourage all Canadians to read the Calls to Action and discern what you might do to engage in reconciliation and building right relations with Indigenous peoples.
CFSC was honoured to witness and participate in the closing events of the Truth and Reconciliation Commission of Canada and to be invited to facilitate a panel on the UN Declaration on the Rights of Indigenous Peoples.
Indigenous Voices on Reconciliation
What does reconciliation mean to you? What suggestions do you have for non-Indigenous people to respectfully engage in reconciliation? Have you seen a change in how people are engaging in reconciliation in recent years? If you had to choose one thing that you wish every person knew about reconciliation, what would that be? What are your thoughts on how to be a good ally?
Many settlers wish they could ask questions like these to Indigenous people without appearing foolish or rude. Canadian Friends Service Committee knows that not every settler has the opportunity to have open dialogue with Indigenous friends and neighbours. This is why we want to give you a chance to hear the answers to these questions from some of our Indigenous partners, people that we work closely with and trust to give us honest responses, and who trust us enough to engage with this project!
See how some of our Indigenous friends and partners responded to these questions.
Learn more about reconciliation and how to engage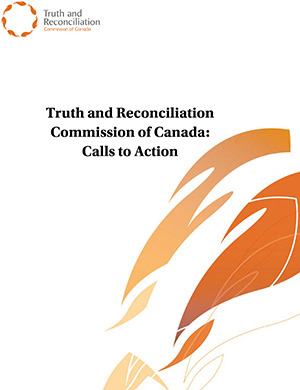 Contact us to purchase pocket-sized copies of the TRC Calls to Action.
Letters sent by Canadian Friends regarding the discovery of graves of Indigenous children at the sites of former residential schools.
Truth and Reconciliation: Quakers in Action—a resource to help Friends across Canada engage with the Calls to Action issued by the Truth and Reconciliation Commission. (2018)
Truth and Reconciliation: A Guide for Canadian Quakers. (2015)
Queries for Friends as we engage with reconciliation. (2015)
Brief about the TRC. (2015)
2019 Report on Quakers' work for reconciliation.
2018 Report on Quakers' work for reconciliation.
2017 Report on Quakers' work for reconciliation.
Additional CFSC resources on Indigenous peoples' human rights.