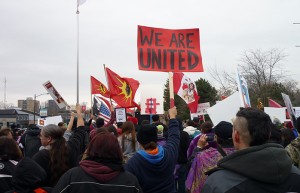 Photo credit Mary Kosta
In a recent article in the Montreal Gazette (10 June 2013), the Aboriginal Affairs Minister Bernard Valcourt is reported as denying that the UN Declaration on the Rights of Indigenous Peoples has any effect on the "government's treaty and aboriginal rights obligations":
"… [Aboriginal Affairs Minister Valcourt] said the UN Declaration is an 'aspirational document' that doesn't affect the government's treaty and aboriginal rights obligations under the Constitution."
Misleading Indigenous peoples and Canadian public
It is irresponsible that the federal government, especially the Aboriginal Affairs Minister, would deliberately mislead Indigenous peoples and the Canadian public in this manner. Such actions are incompatible with the government's duty to uphold the honour of the Crown.
Genuine reconciliation and good governance are not possible, if the federal government undermines the UN Declaration and fails to respect and protect Indigenous peoples' human rights. The Declaration is included in the list of "Universal Human Rights Instruments" on the website of the Office of the UN High Commissioner for Human Rights (OHCHR).
In regard to the Minister's comments, kindly consider the following:
1. The Supreme Court of Canada ruled in 1987 that declarations and other international human rights instruments are "relevant and persuasive sources" for the interpretation of human rights in Canada (Reference re Public Service Employee Relations Act (Alberta), [1987] 1 S.C.R. 313, at 348).
2. In a recent case involving the Aboriginal Affairs department, the Federal Court ruled that the UN Declaration may "inform the contextual approach to statutory interpretation" (First Nations Child and Family Caring Society of Canada v. Canada (Attorney General), 2012 FC 445, para. 353, affirmed 2013 FCA 75). In its own factum to the Court, Canada indicated that the UN Declaration "may provide legal context that is of assistance in interpreting domestic legislation".
3. In regard to the UN Declaration, the Canadian government conceded in 2012 to the UN Committee on the Elimination of Racial Discrimination that "Canadian courts could consult international law sources when interpreting Canadian laws, including the Constitution." (Committee on the Elimination of Racial Discrimination, "Consideration of reports, comments and information submitted by States parties under article 9 of the Convention (continued): Nineteenth and twentieth periodic reports of Canada (continued)", Summary record of 1242nd meeting on 23 February 2012, UN Doc. CERD/C/SR.2142 (2 March 2012), para. 39).
Forwarded by CFSC partner human rights lawyer Paul Joffe. Read more analysis of why the UN Declaration on the Rights of Indigenous Peoples is not aspirational.