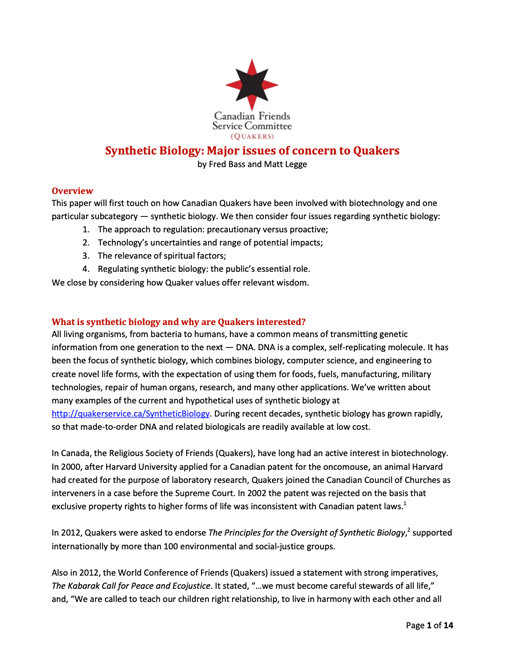 Canadian Friends Service Committee (Quakers) is pleased to release a position paper, Synthetic Biology: Major Issues of Concern to Quakers. We've been actively tracking synthetic biology since 2012, and this paper focuses our thinking, reflecting on the major issues we see in the field. Although the topic is synthetic biology, many of the issues are highly relevant to the way societies can safely deal with any innovation.
Taking on the tough questions
While remaining brief, the position paper doesn't shy away from the tough questions facing us as new techniques called "synthetic biology" or GMO 2.0 take shape.
What is synthetic biology and why are Quakers interested?
The approach to regulation: precautionary versus proactive
Technology's uncertainties and range of potential impacts
The relevance of spiritual factors
Regulating synthetic biology: the public's essential role
Key Quaker values and synthetic biology
No science background is needed to read the paper or understand the issues discussed.
Debates about genetic engineering can quickly become very polarized, with a lot of entrenched views and demonization. This paper takes care not to follow that approach, while remaining honest about the challenges before us.
Download Synthetic biology: major issues of concern to Quakers (PDF).
Learn more about synthetic biology.