In response to the current high profile around the Wet'suwet'en land defense, many Friends and CFSC supporters have reached out to us in recent days and weeks. Some of what's circulating in the media and online is not carefully written and can actually increase misunderstandings. Good quality information is critical. That's why we're sharing links below to some of the better researched pieces we've come across, ones that can help you to understand what's happening.
Escalating tensions have sprung from the concerns around Coastal GasLink advancing a pipeline into Wet'suwet'en traditional territory without the consent of hereditary leadership. Coastal GasLink sought and received the court injunction and enforcement order issued in December 2019. RCMP arrests were a result of this enforcement order. Currently, many actions to show support for the Wet'suwet'en hereditary Chiefs are happening across the country.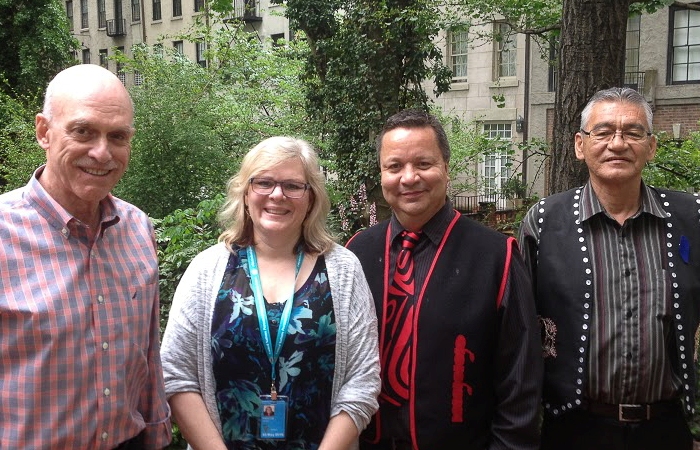 Fundamentally, this conflict between Coast GasLink and the Wet'suwet'en hereditary leadership stems from the relationship between the Crown and Indigenous peoples and the inherent rights and obligations that have been denied for centuries.
To understand this issue in context, CFSC recommends reviewing our materials on the doctrine of discovery. When conflicts around land rights arise in this country, we need to go back to the foundations of the relationships between settlers and Indigenous peoples in this land we now call Canada.
Our statement last month resulted from our following this situation closely and our work with partners for the past few years.
We continue to engage with Indigenous partners and other human rights organizations on these issues, and continue to urge the need for respectful dialogue and respect for human rights.
https://www.firstpeopleslaw.com/index/articles/457.php
https://www.firstpeopleslaw.com/index/articles/438.php
https://www.firstpeopleslaw.com/index/articles/432.php
http://winnipeg.can.newsmemory.com/?publink=0c793f21f
https://www.ctvnews.ca/canada/wet-suwet-en-what-s-the-difference-between-the-elected-band-council-and-hereditary-chiefs-1.4811453
https://www.cbc.ca/news/canada/british-columbia/delgamuukw-court-ruling-significance-1.5461763
https://www.wcel.org/blog/invisible-thread-coastal-gaslink-decision-and-why-we-must-do-more-recognize-application